AT Days 148-151: Fontana Dam and points south
I'd depart Great Smoky National Park on Day 148, but still be treated to some great scenery and terrain in North Carolina.  Here are the daily details:
Day 148 Mollies Ridge Shelter to Cable Gap Shelter (19 miles)
Day 149 – Cable Gap Shelter to Sassafras Gap Shelter (14 miles)
Day 150 – Sassafras Gap Shelter to Wesser Bald Shelter (14 miles)
Day 151 – Wesser Bald Shelter to Siler Bald Shelter (18 miles)
Out of the Park, to the Dam
It was almost all downhill from Mollies Ridge to Fontana Dam, where I'd exit the National Park without seeing a single bear or a wild boar, the park's two signature critters.
I did, however, get some great views from the fire tower at Shackstack Mountain:
More importantly, the rickety fire tower did not disintegrate underneath me – as this had to be one of the most unsafe structures I'd climbed on the AT.  There were missing railings and wide gaps in the safety rails:
I ultimately made it safely to Fontana Dam, a man-made lake with a lot of concrete to cross.
My head music reverts to its core
You faithful blog readers know by now that there's always some tune playing inside my head.  Recently I've been looping through a lot of stuff from the early 70's when I first started listening to music on my own (on an AM radio and K-Tel Records!).  Stuff like:
In essence my head was pulling in tunes from its core, stripping away musical layers added since that time.  I'm wondering if it's running in parallel to what the trail has done within my life these past five months – stripping away all of the excess over the core.
Here are an AT hiker's core considerations, as I see it:
Water

Food

Shelter/Rest

Physical Health

Appreciating Nature

Community
I'd estimate that 98% of my trail time is wrapped up in these core activities.  And that last one may surprise you given that I'm typically hiking 8-9 hours by myself each day.  However, I've learned that sharing trail stories, observations, and experiences with hikers and trail supporters is a key piece of an AT trek. "Voicing the love" of this special place and the epic journey it holds for so many is SO important. It adds to its life, its vibrancy.
Gaps in their thinking?
Since departing Great Smoky National Park, I've noted a really baffling and annoying trend.  Most of the landmarks noted on trail hiking signs are for "gaps", of trail low points (up north they'd often be called a "col" or "notch").  Mountain summits and trail junctions are rarely noted on trail signs.
I find this absolutely silly.  Hikers don't care much about low points – we're out to bag peaks!  Ever heard a hiker say "We climbed a couple of peaks with some views but you should have seen the low point connecting them! I can't wait to go back!" Does any day hiker drive up to a remote mountain parking lot itching to hike to the next low point?  Then – dear reader – take a look at this sign and ask how it could possibly exist?
Even non-hikers don't do this!  Does anyone in the world relate their life story by describing the low points? "Well, I fell off my bike at three.  Failed my first test in third grade."  Not anyone that I know. Or anyone that I'd want to know.
My understanding is that mountain "gaps" were important in the pioneer days for knowing how one could get through a mountain ridge to the next valley.  But AT hikers don't take that journey- they hike along the ridge!  Gaps are almost completely meaningless for hikers. Yes, some feature highways and some have campsites or water, but how about telling a hiker that? Up north trail signs tell hikers the distance to the next summit, trail junction or shelter.  Why not down south?
A ray of hope?
And then, as I was assembling this blog rant in my head on the trail I came upon this sign of hope.  It was a sign of what was possible:
In fact it was Mt. Possible!!  A brand new signpost loaded with useful hiker information- a summit name, elevation, trail directions, and shelter locations!  It's as if someone had read my mind as I was on the trail and scurried to the peak that morning to erect a perfect sign to fix the gap fixation!
Alas, it was a single outlier – Within 2 miles I passed Simp Gap on the trail.  Here's the sign:
Here's the important trail section that it marks for hikers:
Blechhh!  (Sorry, I kinda just threw up in my mouth there …)  Vital info for a hiker, right?  Much more important than the next shelter, water source or peak, yes?  Hmmmm…don't think so. <Sigh>
Ch-ch-Cheoah!
Ch-ch-Cheoah Bald!  Ahh, yes – who could forget the happy Chia Pet jingle from those ubiquitous commercials?  Chia Pets bring much happiness and so did my climb to the open meadow atop Cheoah Bald on Day 149.  It was my MMM (Most Memorable Moment) of the day because of the great views AND because it's just so fun to say:  Cheoah!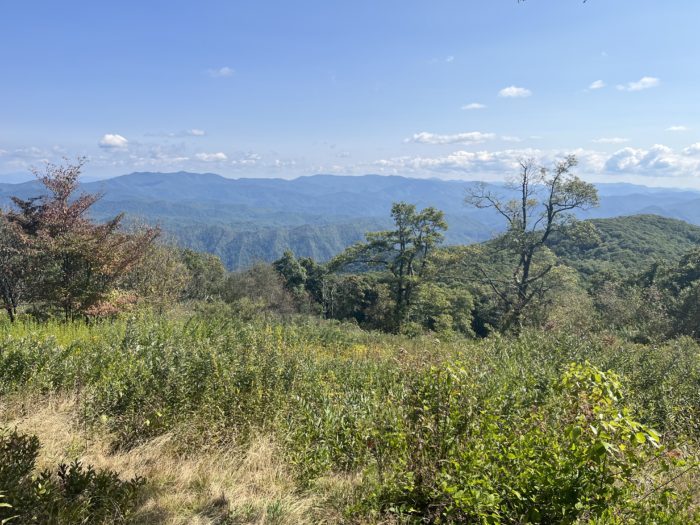 Cheoah sounds and reads fasssst, doesn't it – I wonder why?? (Yeah, well I really know the answer here – just trying to make you all think a bit!)
I ended the day at Sassafras Gap Shelter, which amidst the nut-raining craze of recent days featured chestnut trees unloading on the shelter roofs!
I was thrilled! (But also quite wary of where I'd set up my hammock!)  For those of you who are not aware, the American Chestnut which once was so prominent in the Appalachian region has been virtually wiped out by a series of fungal invasions.  So for me to hear a thunderous drop from above, then to pick up this handful – that all came down at once:
Wow!  That brought me right back to being nine years old, sitting under my neighborhood chestnut tree – surrounded by more nuts than I could count! It's sad to think that most of these grand trees have been wiped out.
Down to the NOC – and back up
Day 150 brought me to a resupply point.  The Nantahala Outdoor Center, or NOC, is a major gathering point for rafters, hikers and outdoors people in North Carolina.   In addition to resupply I could get some (almost) town food there.  For AT hikers looking at a topographic map, it's a downright frightening picture – as a 3000 foot descent is followed by a 2500+ foot climb on the other side. It looks like a huge venomous "V". 
The day started with a short trip up to a peak- but then led into the monster descent, which proved to fairly rough at the top part.  There were, however, some good views:

Soon enough I was down at the busy and populated NOC:

After a resupply at the General Store, I headed to the BBQ joint for some (kinda) real food and beer:
This Hoppy Camper IPA from Innovation Brewing was the best I could find – but it wasn't dazzling enough to keep me there.  Neither was the fast-foodish but expensive BBQ fare.  Probably the best part of my NOC time was the non-stop alternative tunes blasting away:  Red Hot Chili Peppers, Lit, U2, that was quite refreshing!
But I opted instead to stash my next liquid reward into my pack for the 2500+ foot climb up to my planned campsite.
About 1500 feet of that climb to Wesser Bald shelter went as expected, then all of a sudden a jungle broke loose!  The trail got ragged and steep – then brutally overgrown on the ridge to the shelter – yep, that's the AT:
I was happy to survive the late day onslaught, and SO pleased that I deferred my liquid reward to the end of day:
Because a shelter beer tops almost any other situational beer out there, doesn't it?
Balding, Balder, Totally Bald
My 18 mile hike on Day 151 would bring me across three very different and interesting North Carolina peaks – all would offer excellent views. It was a special day on the ridge.
Wesser Bald
Wesser Bald was reachable by just a short ascent up from the shelter.  It offered a broad observation deck.  There were still a lot of low clouds in my views:
Wayah Bald
Wayah Bald?  Cause yah lost all yah hair!  Ah that Native American humor – so under appreciated!  This peak was the most accessible of the three, with a parking area located just a quarter mile off of the summit.  And because "accessible" always seems to translate to "crowded", there were probably two dozen people at the top here.  A stone tower offered some nice 360 degree views, which were a bit hazy at midday:
Siler Bald
Siler Bald proved to be the peak with the most day hikers taking it on.  It would also be my favorite of the three, with great views all around:
But again I found the lack of trail signage (except for useless "Gap" signs) to be unforgivable!  There were no trail signs at the base parking lot, and at the key junction that led to the summit – just a pair of these useless wooden markers:
Do you think that it would help a few day hikers (or AT hikers) to know that the summit was just 0.2 miles up the hill?  And maybe help those hikers head the right direction to their car? I JUST don't get it … 
Day hikers are the future backpackers and AT hikers, those that will support the trail in the future!  Why leave them without any direction? It is completely baffling to me.
Anyway, I'd find my way to Siler Bald Shelter that night, leaving myself a short hike into Franklin, NC on the next day.  I needed resupply and a bit of rest.
Affiliate Disclosure
This website contains affiliate links, which means The Trek may receive a percentage of any product or service you purchase using the links in the articles or advertisements. The buyer pays the same price as they would otherwise, and your purchase helps to support The Trek's ongoing goal to serve you quality backpacking advice and information. Thanks for your support!
To learn more, please visit the About This Site page.