AT Days 96-99: Shenandoah, we hardly knew ye
After five days of searing heat in Virginia, I thought a little rain might be welcome.  Unfortunately, there was so much rain that I had very few clear views within scenic Shenandoah National Park.  Here are the details:
Day 96 – Thornton Gap to Rock Springs Hut (14 miles)
Day 97 – Rock Springs Hut to Hightop Hut (24 miles)
Day 98 – Hightop Hut to Blackrock Hut (21 miles)
Day 99 – Blackrock Hut to Rt 250, Rockfish Gap (21 miles)
The ridge provides relief
On Day 96 the intense heat would be dialing down a little bit – but rain was coming.
When Alison, the wonderful owner of Open Arms Hostel, dropped me at Thornton Gap I knew I faced a big climb to the ridge.  The early morning air was stagnant and humid; I struggled mightily to get to the 3400 foot summit of Mary's Rock.
But as soon as I reached the peak and took in the western view, cool air rushed in to provide relief.  It was the day's MMM (Most Memorable Moment) – and it drove home a point for me:  you'll be fine on the breezy ridge, but sweltering elsewhere.
Bologna disaster!
I was resupplying at the Luray Walmart when I hit the peanut butter wall.  For most of the 90+ lunch meals on the trail I'd pulled out a container of Skippy Chunky and happily spread it on a pita or tortilla.  But I just couldn't imagine taking ANOTHER bite of that rollup on the trail.
But what were my other lunch choices? I needed something lightweight but calorie dense.  Could bologna work?  Yeah, it said "Refrigerate" on the package, but so do string cheese and pepperoni – and thru-hikers routinely pack those into the woods for days at a time.  And weren't there salt and spices in bologna which would preserve it a bit?
Well, in hindsight I should have googled it right there in front of the packaged meat section, but I didn't.
At lunchtime on Little Stony Man cliffs I'd get my last really good views for several days – and  I'd LOVE my tasty bologna and string cheese tortilla!
But – it gnawed at me – was that meat going to be OK?  A Google check told me "No Way!" – my bologna was already generating bacteria, going bad quickly!  So I had to put it in my garbage bag.  My resupply had become a "desupply", but I scraped lunch together for the next four days.  Discovery:  cheese sticks and Fritos make a tasty tortilla wrap!
Because of the name Little Stony Man cliffs, I got Mumford and Sons "Little Lion Man"'as head music for the rest of the day.  This was NOT a welcome event- I despise that song!  I also completely agree with my daughter Kaylee that the banjo parts "make it sound like they are trying too hard!"  I'm not a banjo fan!
Rain, rain go away!
Even though I'll admit that hiking in rain is actually more bearable than 90+ degree heat and humidity, it still sucked a lot of enjoyment out of my days.  The view below is one of the BETTER ones I'd have on Days 97 and 98, when I spent a lot of time in clouds and fog.
The overnight and midday heavy rains also triggered the activity of every web-spinning insect in Shenandoah.  I've talked before about taking "web hits" on the Trail in the morning as the "web warrior" who is out there first.  In these moist conditions it didn't matter WHEN you were out there — webs were everywhere in your face and hair.  On Day 98 I started using a hacking motion with one pole that is similar to the Atlanta Braves' "Tomohawk Chop" just to keep my sanity!  How many web-spinners could there be?
Thankfully, Shenandoah is full of "waysides" and campground stores where I could get soda, ice cream and an all important can of beer to pack to that night's shelter.  I found Sixth Lord, a beer made by Waynesboro's Basic City Brewing, to be very well-built:
My Day 98 summit of Blackrock Mountain was definitely the MMM of that day.  It's a unique mountain with great views (which I did actually experience!)
Skyline Drive
No account of an AT trek through Shenandoah would be complete without a mention of Skyline Drive, the windy ridge-running road that intertwines with the Trail throughout the Park.
What I found interesting was how different the road crossings were in Shenandoah as compared to the rest of the AT I've seen.  Why?  Well, most roads that traverse mountain areas are in deep notches and gullies to run beside rivers.  This is because these motorized roads were once traveled by horse or foot, and nearby water was a necessity.  More people also tended to settle in the river valleys.
But Skyline Drive is a ridge-runner, and as a result a hiker frequently finds himself climbing below the road.  At a road junction, you'll often go up to meet the road rather than taking some maddening thousand foot decline.  I found this quite unique.
The hiker mix in Shenandoah
As I worked my way further south into Virginia, approaching the first of August, the stream of NOBO hikers was drying up quickly. I wasn't surprised, since those that aren't out of Virginia by late July won't reach Mount Katahdin by mid-October when the park closes.
Among those NOBOs I did meet the conversation was all about where they would "flip" to – Katahdin itself, or maybe Massachusetts or Vermont- so they could complete the trail end first and then fill in the middle.
I was clearly one of very few SOBO hikers, as the trail consensus was that most of the flip-flop hikers had yet to start the South.
There were also a large number of section hikers and those hiking the 100 mile length of Shenandoah National Park.  I enjoyed meeting a UVA grad student named Syd and two high school guys who were taking on the Park hike. We'd end up staying at the same shelter (or hut, in SNP parlance) on three occasions.
For those of you who may be inspired to hike a section of the AT after reading my blog, there may not be a gentler but scenic section of the trail.  Most of the terrain is root and rock free like the picture below: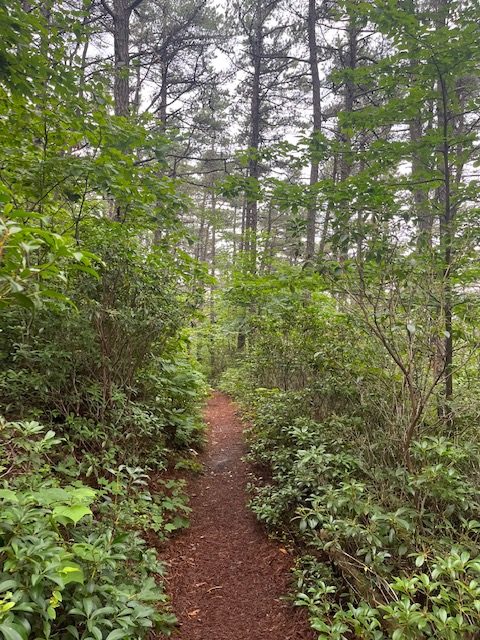 You won't find trails like that in NH or Maine!
Out of the Park
I'd depart Shenandoah on Day 99, which I'll wistfully remember as "Deer Day".  I must have roused seven or eight deer from their woodsy resting places as I hiked by!  I was headed to a hostel in Waynesboro for cleaning and resupply, wrapping up four and a half murky days.  As I said in the title, Shenandoah we hardly knew ye.
Word challenge – Virginia
During these wet hiking days in Virginia I realized that the State name had 3 letter "i"s in it.  I started wondering then how many regular words (not State names) had exactly three "i"s in them.  In four minutes I found eight words with exactly three letter "I"s.
Wanna try?  Plurals not allowed!  My answers are under the next picture – good luck!
My answers (8):  infinite, infinity, inhibit, imitation, limitation, bikini, ignition, imbibing
That's all from the AT today, with less than 900 miles left and Day 100 approaching!  Georgia is definitely on my mind!
Affiliate Disclosure
This website contains affiliate links, which means The Trek may receive a percentage of any product or service you purchase using the links in the articles or advertisements. The buyer pays the same price as they would otherwise, and your purchase helps to support The Trek's ongoing goal to serve you quality backpacking advice and information. Thanks for your support!
To learn more, please visit the About This Site page.