AT Part Four: Of Pastures and Ponies
Roan Mountain, TN, to Bland, VA
Distance: 196.5 miles
Total distance: 591.7 miles
---
I stared at the small section of flooded trail that bordered the shore of Watauga Lake. My heart sank. My shoes had just dried out a few minutes before I encountered this surprising little situation.
Determined to spend the rest of the day in the rare comfort of dry footwear, I sat down, pulled up my gaiters and untied my trail runners. I slipped my feet out, peeled off my socks, then carefully tiptoed through the water to dry trail. I sat back down and put everything back on.
A tenth of a mile later, I came to another segment of underwater trail. The water was deeper this time, and stretched for a farther distance.
I chuckled to myself. The universe was definitely testing me, but I remained undeterred. I sat down again and pulled off my socks and shoes.
Around the fifth section of flooded trail, I began to get a little aggravated. As I waded through murky, waist-deep water, I glanced to my left and saw a road about ten yards away marked with blue blazes. A sign in the distance read, "AT RE-ROUTE DUE TO FLOODING."
It was somewhat comforting to later learn that most hikers had also missed the initial detour that day.
Lesson learned: It's a good idea to look for alternative routes to your destination.
Passing Through Pastures
North of Roan Mountain, the remainder of the Appalachian Trail in Tennessee was some of the most scenic hiking that I had experienced since the Smokies.
I found Pond Mountain Wilderness to be particularly beautiful with its sheer rock canyons and roaring waterfalls. And—once I discovered the detour—hiking around Watauga Lake and crossing its dam were both a delight.
The trail crossed Tennessee Route 91, where I exited a forest and entered some new terrain: expansive rolling green pasture. It was a novelty to hike for a few miles while not being surrounded by trees. I welcomed the open sky and fields of dandelions.
Pastureland became more common as I headed into Virginia. I couldn't help but stop and appreciate its bucolic beauty whenever I passed through some.
I never expected to find a cow lying in the middle of the AT, but it happened in a pasture.
Hitching a Ride
Three miles past the Tennessee/Virginia border we finally took our first long-awaited zero in Damascus.
Rather than stay in Damascus proper, we ended up finding a hotel deal in the neighboring town of Abingdon, which was about ten miles away.
The only way to get there was to hitch.
I had my doubts about anyone who would willingly want to pick up four disgusting hikers. Sure enough, though, within a few minutes a nice man in a Toyota FJ Cruiser pulled up.
He was in the process of building a house in the area and was on his way to Lowe's. The man drove miles out of his way to drop us off directly in front of the hotel.
We've continued to get rides from amazing people in nearly every town that we have passed through. Oftentimes people have been offering us a lift before we even raise a thumb.
Hitching has given me a new appreciation for the kindness and generosity that can be shown by total strangers.
A Great Day at Grayson
The day we entered Grayson Highlands State Park started off a bit peculiar. First thing in the morning, I bumped into a large group of day hikers. Given that the sun had just risen, this was uncommon in my experience.
Living up to my trail name of Fast Lane, I passed by them, only to encounter another larger group of day hikers. Before I knew it, I found myself lost in a chain of almost a hundred hikers. They were all taking part in a 30-mile charity hike to raise money for cerebral palsy research.
I spent most of that morning admiring the people who were pushing their physical limits for a good cause. I also felt overwhelmed. I rarely encountered more than a dozen people on trail on any given day. Plus these hikers smelled about a thousand times better than I did.
That afternoon, I hiked up Mount Rodgers and saw the start of Grayson Highlands. The barren, rocky landscape roamed by wild ponies was foreign and mesmerizing.
I decided to take the half mile side trail to the summit of Mount Rodgers, the highest point in Virginia.
There was no view at the top to speak of, but I still enjoyed the trek through the thick, moss-covered pine forest.
I descended back to the AT where I spent the remainder of the day admiring views and gawking at ponies.
I also passed the 500-mile mark, which felt pretty great.
It had been an eventful day. My feet were tired by the end of it, but my heart was full.
Another Hill to Climb
Moving north through Virginia, the elevation has gotten noticeably less steep, but there are still plenty of hills to climb.
A particular one that comes to mind is a 2,000-foot ascent to Chestnut Knob that came at the very end of a long day.
As I began to make my way up the mountain, I was already tired. It was late in the afternoon and it was hot.
Coincidentally Pink Floyd's Fearless came on the playlist that I was listening to.
"You think the hill's to steep to climb…"
I smiled to myself and walked up the hill.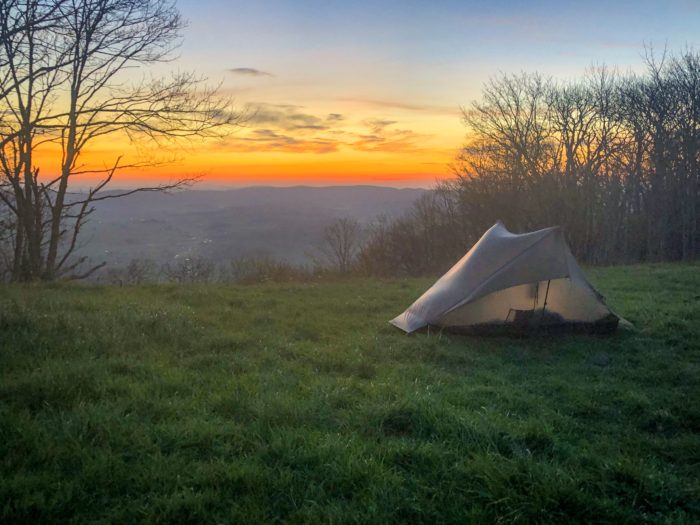 When I awoke to the view of an incredible sunrise from my tent the next morning, I remembered the previous day's climb as being pretty easy.
Affiliate Disclosure
This website contains affiliate links, which means The Trek may receive a percentage of any product or service you purchase using the links in the articles or advertisements. The buyer pays the same price as they would otherwise, and your purchase helps to support The Trek's ongoing goal to serve you quality backpacking advice and information. Thanks for your support!
To learn more, please visit the About This Site page.