Breakfast Pizza Was A Terrible Idea (Days 20-27, Fontana Dam to Hot Springs)
Hey there, greetings from Hot Springs, NC! It's been over one week and 100+ miles since we last spoke to each other! How are you? You look great, have you lost weight? I think you have.
This update is a long one, so I'll make this preamble short. Yes, I still hurt everywhere. No, I don't want to quit yet. Yes, I'm eating more than I ever thought I could. No, I haven't seen any bears yet, though I have seen deer and a bunch of fat turkeys.
On to the updates!
Day 20
Start: NC 28 / Fontana Village
Finish: Mollies Ridge Shelter
AT Miles Hiked Today: 13.1
Overall AT Miles Hiked: 177.3
Miles To Go Until Katahdin: 2,011.8
Man, our first day in the Smokies certainly didn't disappoint! We got absolutely dumped on with rain. More on that in a bit.
The day started off well enough. Reindeer and I slept in until around 7:30, we grabbed a delicious breakfast at the lodge (possibly the best breakfast burrito I've ever had, with some pancakes), then packed up and went down to the general store for a bit of last minute resupply.
I thought I had a resupply box going to Gatlinburg, but it turns out I don't, so Reindeer and I huddled up and decided to knock out the Smokies in 6 days, around 77 miles. Our legs were feeling good, and Gatlinburg is a bit of a haul from the trail, around 15 miles. My primary concern is that I'd spend so much energy trying to hitch all the way to town and get back out, when I'm capable of doing the Smokies straight through.
So, I grabbed a few more pop tarts and some clif bars. My food bag has 6 days of food in it. Super duper heavy. This will not be fun to lug up into the Smokies.
Reindeer had to wait for the post office to open at 11:45, but I wanted to hike out earlier. The shuttle showed up, and it was absolutely pouring, so I decided to cool my heels and try to wait out the rain.
I crushed a microwave burrito and a few clif bars and a banana and a Coca-Cola on the balcony, waiting to see if the rain would disappear. Then, it did! We had a window of decent weather and grabbed a shuttle back to where we got off the trail. We didn't start hiking until 1pm, and had plans to make it over 13 miles on the day. Not a great plan, but we figured we could make it work.
It was a few miles to the Fontana Dam shelter, AKA the Fontana Hilton, because it's the most deluxe shelter on the trail.
We crossed over the epic Fontana Dam next! The trail goes directly over the Dam.
Then, we entered the Smokies. I'm pretty nervous at this point, as there are tons of rain clouds moving in. But, it's still hot, and I decide to hike shirtless to save myself from sweating through my shirt.
The Smokies are unique in that hikers are required to camp in the shelters. Only if the shelter is full are hikers allowed to set up their tents or hammocks. This is super annoying for people like me who dislike shelters for various reasons (mice, germs, other hikers smoking / drinking / talking / snoring). So we had to target the first shelter in the park, and there was no stopping until we got there.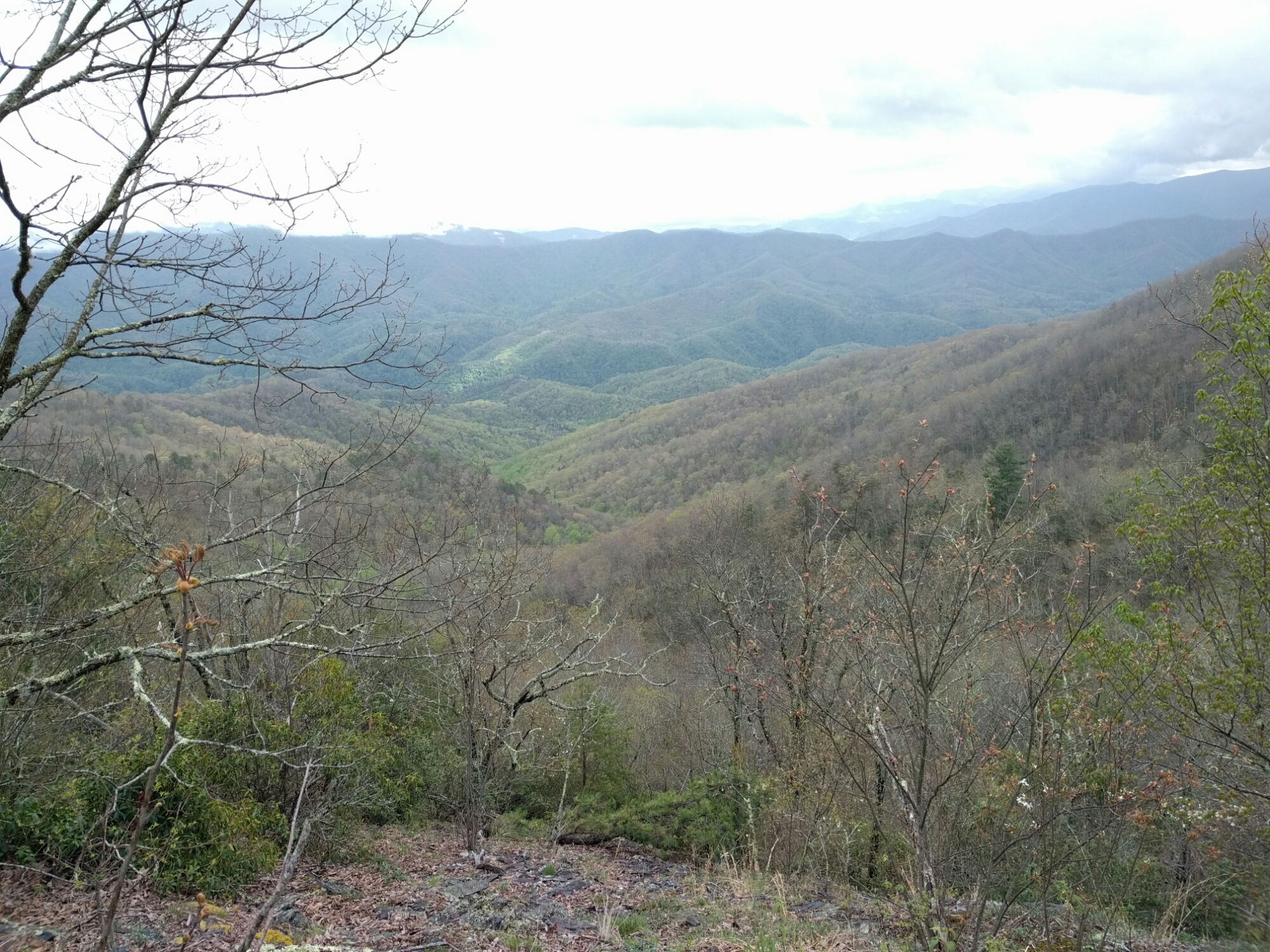 Up we went! We entertained ourselves for a while doing bad Lord of the Rings impressions. We had fun imagining if Frodo was just secretly super passive aggressively angry at Sam the whole time. Also if the hobbits were Irish, somehow, and drunk. Gotta kill the hours somehow, right?
The Smokies includes the highest point on the Appalachian Trail, Clingman's Dome, at 6,611 feet. But first we have to get up that high, and we made a good start today, climbing from the Dam at 1,700 feet to our high of the day at 4,575. Coming off a nero, my legs felt up to the challenge.
That is, until the rain moved in.
Ever hear the expression "When it rains, it pours"? Whoever thought that up must have been talking about the Smokies, because we got DUMPED ON.  Thunder crashing, lighting flashing, and the entire time, buckets of rain going directly into my shoes. At first I avoided stepping into puddles on the trail, but then I realized 1) the entire trail is one big puddle at this point, and 2) my shoes and socks are completely saturated with water.
And the best part was, we still had 5+ miles to go until the shelter.
So, no more pictures for the day. I just kind of zoned out and pretended I was somewhere else as my feet squished and rain continued to beat down on me as I walked as quickly as possible.
We rolled into the shelter at 7:15, as the rain was just ending. The shelter was full of hikers, perfect! I set up my tent, ate dinner, and crashed immediately. So tired after run-walking those last 5 miles. So happy to be in my warm sleeping bag right now. It's supposed to storm out again tonight but the weather is supposed to be all clear the next 3 days!
Day 21
Start: Mollies Ridge Shelter
Finish: Derrick Knob Shelter
AT Miles Hiked Today: 12.0
Overall AT Miles Hiked: 189.3
Miles To Go Until Katahdin: 1,999.8 (under 2,000 miles to go, baby!)
Today was my first straight up boring day on trail.
We were socked in with fog all day! No beautiful views at all, just fog 10 feet ahead and 10 feet behind.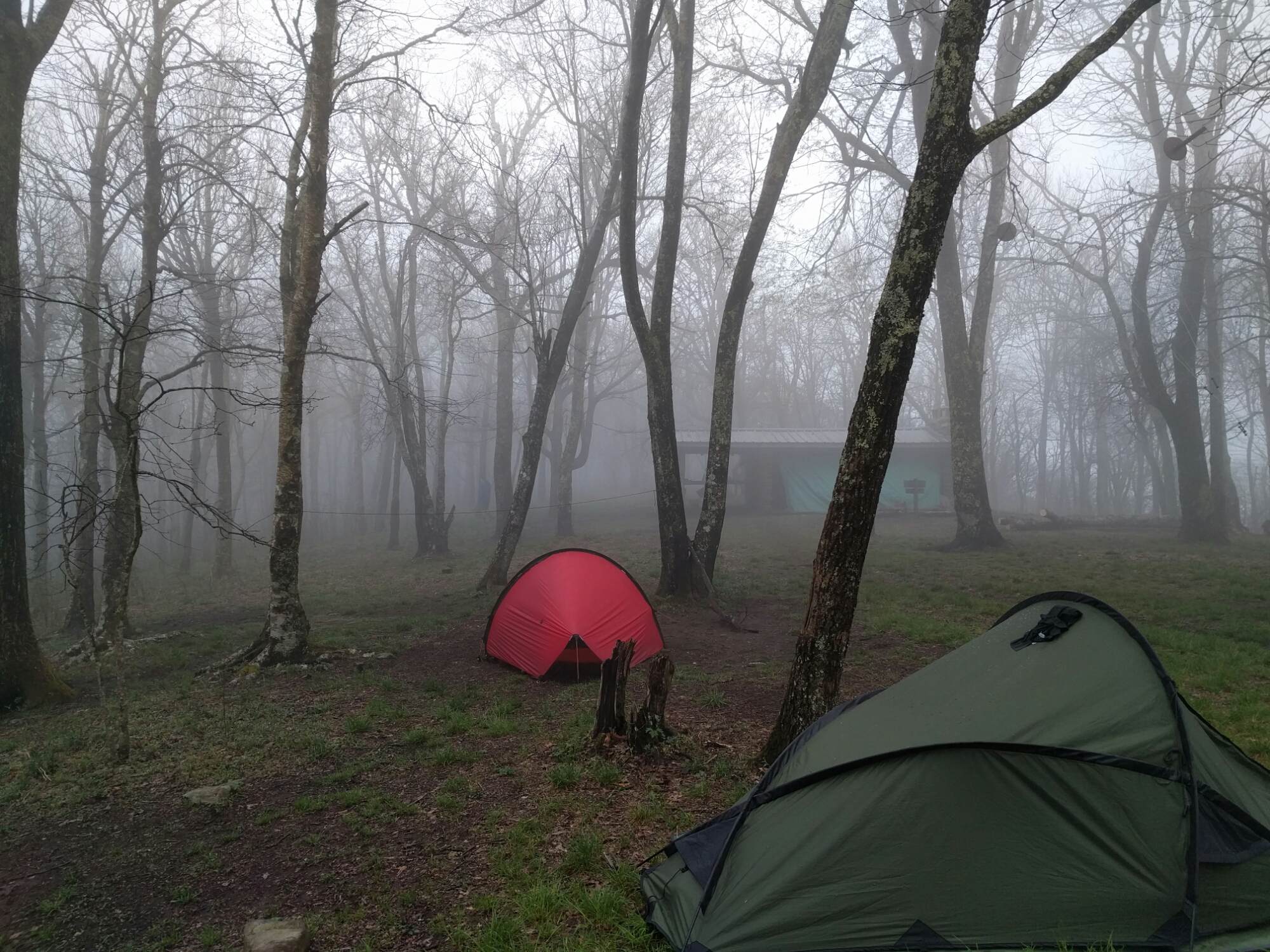 I got moving earlier than Reindeer today, and ended up hiking the entire day alone. Lots of time for personal thoughts. For most of the day I was trying to decide if it would be a good idea to live in a van at some point. The biggest advantage I could come up with is that I could hang Christmas lights on the inside of the van. These are the deep thoughts of a solo hiker.
Later in the afternoon things cleared up, but still no sign of Reindeer. I wasn't worried – it was either stop at the shelter in 12 miles, or push for an 18 mile day. I knew we would both make the lazy decision.
The trail today was a bit bipolar. It was at times the smoothest, best maintained trail I've hiked on, like in the picture above. Then it would randomly have half mile sections where crazy rocks and steep inclines and declines forced you to pay attention to each step.
I rolled into the 12 mile shelter a little after 3pm, and found that Reindeer had already set up his hammock and was hanging out. He had jumped me at some point in the day when I ducked off trail to filter water.
My socks were still drenched from the rain yesterday, so I made a sad little hiker Christmas tree with my socks to try to dry them out.
I'm curled up in my sleeping bag and it's barely 6pm. Lots of fog and high elevation means much cooler temperatures than we had South of the Smokies.
We hit Clingman's Dome tomorrow, the highest point on the AT! Pretty psyched. Alright. Bed time.
Day 22
Start: Derrick Knob Shelter
Finish: Mt Collins Shelter
AT Miles Hiked Today: 13.3
Overall AT Miles Hiked: 202.6
Miles To Go Until Katahdin: 1,986.5
Gorgeous day for hiking today. We awoke to completely clear skies, which is rare for the Smokies.
Reindeer and I hiked together all day today, which was a nice change from rolling solo yesterday. We hit the trail at 9, and the weather was warm enough to change to shorts within a mile.
So much green surrounded us today! The Smokies are a few weeks ahead of the rest of the trail, it seems. Spring is much closer here. Tiny white flowers surrounded us almost all day.
We got water at the Silers Bald Shelter, which was among the nicest shelters I've seen on the trail so far. Guess those $20 Smokies permit fees are going somewhere!
A few miles short of Clingman's Dome, we abruptly hit a gorgeous pine forest. The air smelled of pine, there was lots of moss, and we finally got some shade!
We hit Clingman's Dome around 2:30. This is a Sunday, and the weather was awesome, so I expected a few tourists would be there. I never expected the 100+ people who were on the dome and the approach road!
There were more people taking selfies on the tower than total people I've seen in the last 24 hours. Unbelievable. Honestly, I felt overwhelmed, so I quickly got off the tower.
Reindeer and I heard that there might be snacks sold at the visitor center, so we walked the 0.4 miles down to the center to find that they sold one type of granola bar and one type of chocolate bar. So of course we both bought over 1,000 calories of crappy off brand granola and vegged out in front of the visitors center. It was… Not exactly good. But, adequate?
We got plenty of strange looks from the tourists. Seems like the vast majority had no idea what we were doing there. What a relief to get back out onto the trail.
No complaints for the rest of the day. I think with that ton of crappy granola I'll have enough food to get me out of the Smokies 3 days from now. I'm worried about not bringing enough food so I've been not eating as much as usual, which I think is contributing to me feeling tired towards the end of the day.
We had to hike a half mile off trail to get to the shelter. Absurd! Don't these park rangers know we have over two thousand miles to hike? Why are they trying to add more?
Anyway, the shelter area is full, but Reindeer, Tiny Hippo and I are camped in a side area nearby. Looking forward to getting another 10 hours of sleep tonight, it was a busy day!
Oh, and we crossed the 200 mile mark today. There was much less celebration than when we crossed the 100 mile mark.
Day 23
Start: Mt Collins Shelter
Finish: Peck's Corner Shelter
AT Miles Hiked Today: 14.9
Overall AT Miles Hiked: 217.5
Miles To Go Until Katahdin: 1,971.6
What a day today! Probably my favorite day of hiking so far on the trail.
We woke up to similar weather as yesterday, sunny and beautiful. We had a relatively long day today so we decided to hit the trail at 8:30.
Immediately, it felt like we were hiking in an enchanted forest. Moss and green surrounded us. Very cool start to the day.
We approached Newfound Gap around 11am, and as we emerged into the parking lot, we saw it: TRAIL MAGIC.
We were over the moon excited! Fresh fruit and oreos! Coca-Cola! I was a happy boy.
We rolled into Icewater Spring Shelter around 1, our halfway point for the day. At this point we are feeling lazy and content, so we take a half hour break and hang out with the Germans, Sandals, Snail, Tiny Hippo, Purple Mist and Optimist (whew, lots of trail names).
Conversation among the thru hikers these days often turns to Trail Days, the annual hiker festival in Damascus, VA next month. I hear it's a giant party, filled with lots of drinking, drugs, and general debauchery. I'm undecided on going… Part of me thinks that it would be cool to experience the festival as a thru hiker. The other part of me is worried about getting all my stuff stolen from my tent (possibly including my tent). I'm not much of a partier, so I'm leaning more towards no at this point. Maybe if I get a hotel room nearby. I dunno, we will see.
The entire rest of the day was ridgewalking, with incredible views on both sides. Easy hiking, great views, and a full belly. No complaints here! I leave you with fabulous pictures, no explanation necessary.
We cruised into camp around 6, had dinner, and hung out with the crew at the shelter before retiring to our tents / hammocks.
Today just felt so effortless. No pain, no difficult climbs, just awesome hiking. I know the pendulum will swing the other way and I'll feel like junk soon, but that makes me appreciate days like today even more.
This trail has made me confront my highs and lows immediately, head on – there is no dissociating by watching Netflix, or drinking, or Facebooking, or whatever other escape you fancy. It's just me and the trail, and I'm responsible for facing each day – Whether good like today, or terrible like a few days ago in the thunderstorm. It's beautifully simple.
Simple, but not easy.
Day 24
Start: Peck's Corner Shelter
Finish: Davenport Gap Shelter
AT Miles Hiked Today: 19.5
Overall AT Miles Hiked: 237.0
Miles To Go Until Katahdin: 1,952.1
Huge day today – 19.5 miles!
I'm at Davenport Gap Shelter, sleeping in the actual shelter, with about 10 others. Apparently this is a high activity area for the black bears, so the front of the shelter is literally a chain link fence. We lock ourselves in like a prison. So this will be a short update!
It was a beautiful morning, chilly, but sunny. Within an hour of being on trail a chilly fog moved in, so no sweeping views like we got yesterday.
Around 11:30 we got to our first water source of the day, at Tri Corner Knob Shelter. Lots of familiar faces grabbing water here, we have firmly embedded ourselves into a new group of hikers.
We hiked back above 6,000 feet then descended to our planned stop for the day, Cosby Knob Shelter, at 3pm. At that point it was 7 more miles to the next shelter. Reindeer and I were feeling pretty good, so we decided to keep going. The shelter was apparently very bear heavy, which helped sway us, as did the rain that is supposed to move in tomorrow morning.
The fog cleared out for the rest of the day, leaving us with nice views as we descended to Davenport Gap Shelter at 2,530 feet.
There are no tent spots around the shelter, so here I am, sleeping in a shelter for the first time. There are tons of mice usually in the shelters, which is why I avoid them if I can, but in this case the bears are sufficiently scary, so I don't mind the mice.
It's only 3.4 miles to Standing Bear hostle tomorrow. I have eaten everything in my food bag except for 2 pop tarts tomorrow morning. Word on the street is that Standing Bear has pizza. If that's true, I'm getting me a breakfast pizza or three tomorrow!
Day 25
Start: Davenport Gap Shelter
Finish: Bushcamp near Snowbird Peak
AT Miles Hiked Today: 8.6
Overall AT Miles Hiked: 245.6
Miles To Go Until Katahdin: 1,943.5
Breakfast pizza was a terrible idea.
I had no problem sleeping in the shelter last night, but Reindeer was right next to some epic snorers. Cheap foam earplugs for the win! I woke up no more than usual in the middle of the night.
The thing with sleeping in shelters is that when one person starts to get ready in the morning, the whole shelter wakes up. Not that it's that person's fault, but that's what you get in the close confines of the shelters. So, we were all up at 6:30, and Reindeer and I were hiking by 7:30.
Beautiful morning for hiking. Although the forecast had called for thunderstorms all day, the morning was sunny and warm. Shorts and t shirt right off the bat.
My right ankle was definitely hurting as we started the day. Long day yesterday, plus I know I was landing funny on it yesterday to take pressure off my left ankle, which was hurting. I just can't win.
We walked under I-40 about a mile after exiting the Smokies. That was pretty cool. Also, loud. Cars and trucks are SO LOUD.
We rolled into Standing Bear hostle at 9am. Very pretty little farm hostle! I was impressed with both the grounds and the staff. Very casual.
At Standing Bear, I got to speak with a guy who is financially independent, around age 30. He made some bets on equities in 2008-2009 and built up enough capital to live off the dividends today. He spends the warm months on different long trails and the remainder of the year exploring South America and other countries. Living the dream! You are an inspiration!
There's no easy way to say this, so I'm just gonna put it out there: I ate an entire pizza for breakfast shortly after rolling in to Standing Bear. Normally, I'm fine with that sort of behavior. But, I forgot that I still had miles to walk today after leaving.
I was super sick to my stomach after leaving. It didn't help that the sun was still beating down, and we were going up several thousand feet over the next few miles. Reindeer was sick too, for the same reason. We had to decompress near a water source for a half hour to let our stomachs settle down. Lesson learned: don't eat an entire pizza unless the hiking is done for the day.
Snowbird Peak has a bald at the top, which was very cool to walk over. Reindeer and I decided to stop shortly thereafter to give ourselves a short ~8 mile day, after the 19 miler yesterday.
And a good thing, too! We got our campsite set up and lounged around for a bit, but then the promised thunderstorms rolled in. I'm in my tent typing this during the storm, and we are getting absolutely rocked right now! So, I'm probably in my tent for the night, at 5:30. I'm not complaining. I'll take any excuse to be horizontal for over 12 hours.
According to a dude at our camp site, the fire North of Hot Springs is 40% contained as of today. Currently 15 miles of the trail is closed. We are keeping it slow the next few days and zeroing in Hot Springs to give the fire time to be put out. They are apparently shuttling thru hikers around the fire, but it would be nice to do the miles now and not have to come back to finish this section of trail in September or October.
On a sad note, I found out today via text that Seltzer has decided to get off trail for the year. It was awesome getting to know you during our first week on trail, man. Reindeer and I were hoping you would catch up in Hot Springs during our planned zero! You should come hike a section with me later in the year!
Day 26
Start: Bushcamp near Snowbird Peak
Finish: Bushcamp near Lemon Gap
AT Miles Hiked Today: 13.5
Overall AT Miles Hiked: 259.1
Miles To Go Until Katahdin: 1,930.0
We got poured on last night. Crazy thunderstorms on and off for most of the night. I stayed dry in my tent, though! I was a bit worried, I hadn't tried out my ZPacks tent in big storms, but last night gave me confidence I can handle most storms.
It was drizzling as I ate breakfast, but the rain cleared by the time we got hiking, around 8. Very hilly start to the day, with big uphills and downhills. Super hot and humid, I hiked shirtless for the first part of the day, it was either that or sweat through my shirt immediately.
The trail was extremely smooth all day today – I don't mind elevation change, as long as the trail is not rocky!
My right ankle was super sore all day, so I set a slow pace. Man, I'm ready for a town day. It's been so long since I've showered. By the time I hit Hot Springs, it will have been 9 days, over 100 miles, since my last shower.
The day clouded over, just as we were finishing the hilly section of the day. The last 4 or 5 miles after Max Patch were gentle hills, mostly downhill.
We hiked the last few miles with a guy named Mercury. He was around 45 and fitter than me and Reindeer combined! He had been blasting 20 mile days since starting the trail. Turns out, he is from Claremont NH, which is about 30 minutes from my hometown of Sunapee NH! It was fun hiking with him for a while, but he sped on ahead of us as we rolled into a nice camp near the trail, around 3pm.
I got to soak my feet in a stream and kill the remaining hours of the day talking to other hikers and enjoying the sounds of the moving water. Super relaxing.
According to a guy we met today, the forest service intends to open the closed section of trail North of Hot Springs on Monday. Perfect! We intended to zero on Sunday anyway. Hopefully we're able to hike out without skipping a section of the trail.
Day 27
Start: Bushcamp near Lemon Gap
Finish: Deer Park Mountain Shelter
AT Miles Hiked Today: 11.4
Overall AT Miles Hiked: 270.6
Miles To Go Until Katahdin: 1,918.5
Really nice, slow day today. We knew we weren't going into town, because we want to nero and zero the next two days to wait out the forest fire. So, we slept in and rolled out of camp at 9:30.
After a bit of a climb we came on another beautiful bald! The sun was right in my eyes, but I tried to snag a shot.
Hilly up and down walking for the next few hours. We walked a bit with a guy named Endless who did the PCT last year, and was crushing 20 mile days already this year on the AT.
Our last Mountain to climb was Bluff Mountain, which we peaked at around 11:30. From there it was all downhill for the rest of the day!
Tons of green surrounded the trail, and the trail was as smooth as you could ever ask for. What a perfect day for hiking.
We crossed a gap and got our first mention of Katahdin on the mileage signs!
We strolled into camp at 2:30, after doing about 11.5 miles on the day. We bummed around and talked, and lay down and watched the clouds drift by. Sometimes this really does feel like a vacation.
I think I'll stop this post at the day before we roll into Hot Springs. My WordPress app keeps crashing, I think I finally found the limit on content I'll be able to put into one post.
This hike is still a blast. It's simultaneously getting easier (my quads are hard as diamonds already, I love being fit again) and more difficult (longer mileage, more difficult terrain). We'll have to see how things play out in the next week or so as I head towards Erwin! We are trying to get there in 5 days, via 4 fifteen mile days and an 8 mile day. Coming off a nero / zero, I think my body will be up for it.
Oh, and my hiker beard is coming in fantastically, thanks for asking!
Until next time, happy trails!
-Slice
Affiliate Disclosure
This website contains affiliate links, which means The Trek may receive a percentage of any product or service you purchase using the links in the articles or advertisements. The buyer pays the same price as they would otherwise, and your purchase helps to support The Trek's ongoing goal to serve you quality backpacking advice and information. Thanks for your support!
To learn more, please visit the About This Site page.