Day 163 – The Katahdin Arrival (Fallacy)
My alarm went off earlier than it had all trail long, with the exception of my 2AM wake up before attempting (and failing) the 4-State Challenge. I woke up the same way you wake up on Christmas morning. Your head shoots off the pillow and you know (before you're even fully awake) exactly what day it is. It's mother fucking Christmas!! (AKA: summit day!! potato tomato)
I found Purple Pioneer already awake and making coffee, hammock packed away and practically ready to go. It was 5:15AM. The sun wasn't even up yet, and I prefer to rise with the sun, not before it. Despite my excitement, Katahdin wasn't going anywhere so I hit the snooze for another 20 minutes.
I got up with the sun and packed as hastily as I ate my breakfast. We had 6 morning miles to hike to get to the base of Katahdin. Another 5 to summit, and at least 3 to get down depending on the route. If my math is correct, (and it is, I checked) that's 14 miles and a climb to elevations not seen since New Hampshire and the whites. Not an easy day but I expected we'd be running on adrenaline to fuel it. That and the Redbull I packed out (they didn't have Monster).

We got on trail before 6:30AM and were hoping to get to Katahdin Stream Campground by 9AM. That morning I walked solo and recorded my 'Final Week on Trail' episode for Treks Trail Correspondent Podcast. It gave me time to reflect on my headspace and what I was feeling. I thought back to this whole week in the wilderness. River crossings, and trail magic, and hurricanes (oh my).
I couldn't even keep my emotions together just talking by myself (and to myself) into the phone. It would certainly not bode well for keeping dry eyes at the top. I kept the draft and decided I'd re-record it later with better composure (spoiler alert: I didn't end up re-recording and just submitted it as is).
We stopped at Little Niagara Falls along the way. It was a neat little spot and would have been great for a dip but we had bigger fish to fry. We strolled into Katahdin Stream Campground shortly after 9. We checked in the Ranger station but no Rangers were to be found. So we signed the log book and sat down at a nearby bench for a second breakfast. My pack was feeling extra light as I had only enough food left for that days snacks.
The Ranger showed up shortly after we sat down and proceeded to register our day hike up to Katahdin and give the rundown. Here I got my newest and last trail number. I started April 14th as AT hiker #2568. I visited Harpers Ferry, WV on July 1st as #1116.
I'll be finishing at Katahdin as #927. The Ranger was super nice and answered all our questions. He also talked us out of hiking down Knifes Edge. It's one of several routes down from the summit, all of which require a shuttle or hitch out of Baxter State Park to Millinocket, the nearest town. And It was one of the harder locations to hitch from.
With the pleasantries out of the way, we thanked the Ranger and started our hike. Everything up until this point today was just the preamble, the opening credits, the pre-game festivities. It was time for the final climb, on the final day, of this epic journey. Excited just does not quite capture it. I was giddy.
We started up the 5.2 mile trail. It's started very (and this is the last time I'll use this word) cruise-y. The trail had a gentle rise as it followed along Katahdin stream and multiple small falls. A mile or so in I came to the last privy along the AT, so obviously I used it. I'm pretty sure it was Michael Jordan who said, "You miss 100% of the privy's you don't poop in."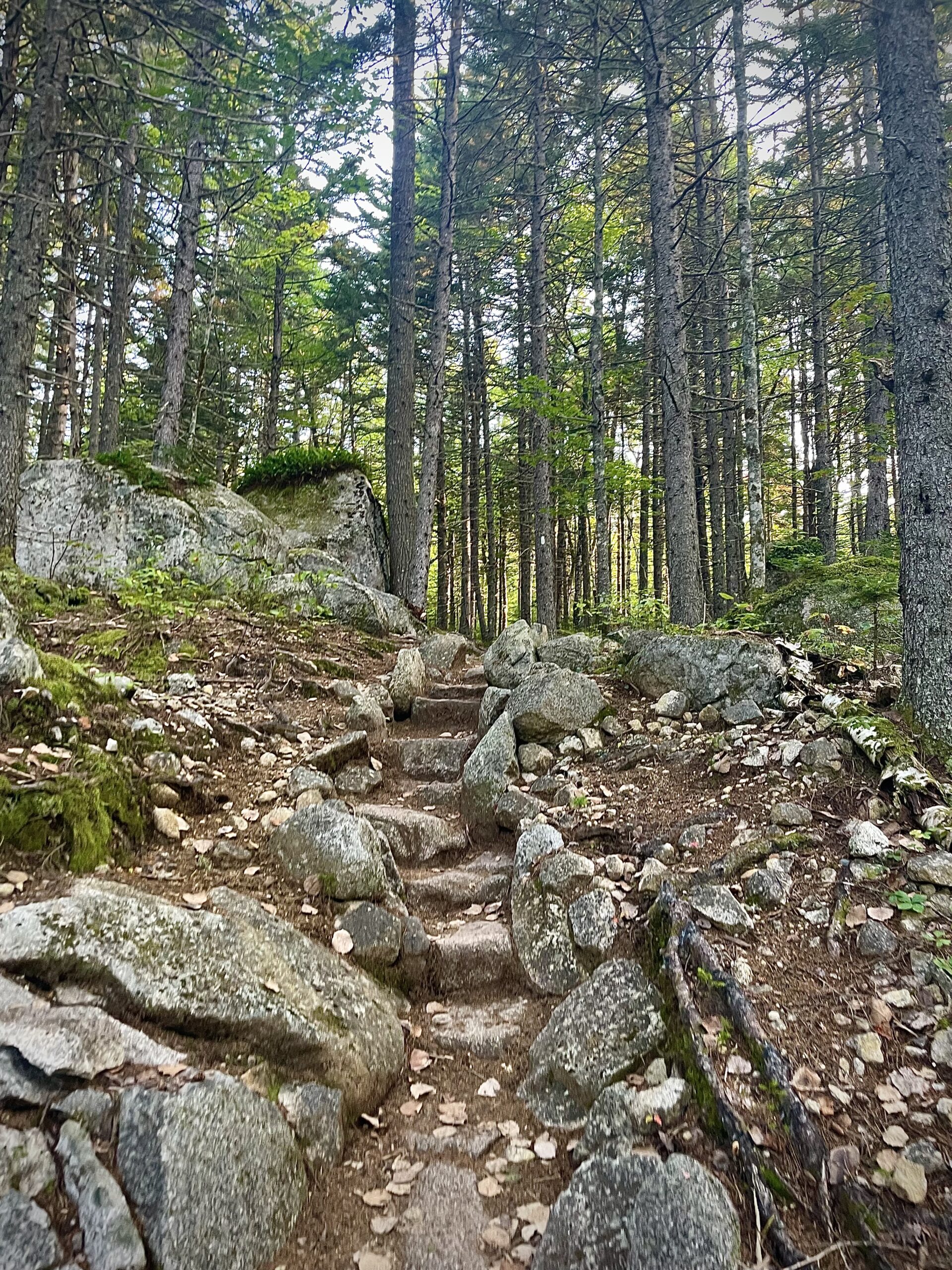 After this, the climb ramped up higher and had small streams of water that flowed down the trail. At roughly the 2.5 miles in, the rocks near the upper portion of the tree line required some small scrambles to get up. At this point I put away my trek poles. They did not come back out of my pack the rest of the way up.
Up above tree line, the whole mountain range and valley opened up before us. A glimpse of Maine to the south became more and more clear, the higher we climbed. Lakes and ponds marked the landscape as far as the eye could see. A quote from the Maine Woods by Thoreau during his climb of Katahdin entered my head:
The forest looked like a firm grass sward, and the effect of these lakes in its midst has been well compared, by one who has since visited this same spot, to that of a "mirror broken into a thousand fragments, and wildly scattered over the grass, reflecting the full blaze of the sun."
I could have sat above the tree line and admired the view all day. But this was also where the climbing got fun. The rock scrambles turned into semi-technical bouldering (V0, V1, and V2's). Hand holds became equally as important as where my feet lay. Even though it slowed the pace, it was a really enjoyable scramble. I fired off a text to Chiquita telling him we would love this part (he's an avid climber).
The boulders seemed to stretch on in a never ending vertical rockslide. There were countless blazes to follow in the upward direction. There also seemed to be countless available paths up. It was a true choose-your-own-adventure book (hike).
As we approached the top of the mountain on a spine of jagged boulders, I could see a sign in the distance. Was this it? Is this the top? Excitement built with every step. I saw people up there, this has to be it. OMG OMG OMG! We reached the top to find a sign that said 'Katahdin.' But it was preceded by "the plant growth on" and followed by "tableland is easily damaged by footsteps. Please help us preserve this area by staying on trail." It was a false summit, and it got me good.
On the bright side, the trail seemed to flatten out after this. We walked along the tabletop mountain, passing other hikers who gave us well wishings and congratulations on making it this far, or saying "you're almost there!" Our rock hoping wasn't over as Thoreau Spring came gushing out of the rocks atop the mountain, flooding a quarter mile stretch of the trail.
From here we could see the true summit. It was a surreal feeling being so close. It was simply a matter of walking the steps and then I'd be there. However, that was always the case from the beginning. I joked at 100-mile mark, (like a football coach, who's just talking to appease the media) "If we just keeping showing up every day, and putting in the work, and walking all the steps, we'll get to where we're going." But looking back over the past 163 days, I've now walked all those steps and there are so few of them left.
This thought consumed me for the last half mile to the end. There're so few steps left. It's right there. I can see it. It was all very matter of fact. Very logical. It was odd because I was seemingly devoid of emotion. Such a dramatic change from even this morning. As we crested the final hill, I saw Lucky McShorts, Build-a-Bear and a few other hikers. They all clapped for us and welcomed us to the peak.
I gave a smile, waiting… anticipating emotion. It didn't come. I walked up to the sign and placed my hand upon the weathered, yet smooth wood. No tears were shed. I was clearly happy, and proud to have made it to this point. It just felt like something was missing. Something I don't quite have the words to describe. If I tried, the words that would come closest would be 'numb accomplishment.' There's a phenomenon called 'arrival fallacy' in which, reaching a goal or destination does not bring about the happiness one would expect from such an accomplishment. We release dopamine in the anticipation of a reward, but once the reward is achieved, there is not the same release we've become accustomed to. This is what I experienced.
I went through the motions of taking the photos. I enjoyed my celebratory beer. More hikers arrived and I congratulated them and watched their emotions. Was I missing something? Someone? My mind drifted to Rabbit and Hatcher. Sip and Soda. Hot feet and Neo. Toto and Mudbag. Orphan, Wiki, Feral Goat, and Haze. And so many more. I would have loved to share this moment with all of them. And yet, I had so many individually important moments with each of them.
Perhaps this was the destination telling me that it's not about the destination. It was about the journey this whole time. And what a journey it was. And still is. After nearly 45 minutes at the peak, It was getting cold. Clouds were ever present during my time there and the only glimpses of knifes edge and the backside of the mountain were transiently visible. After attempted phone calls and some frisbee (for real), we started our descent.
We were spoiled by views the whole way down. They were the same ones we had to turn around to see on the way up. Sunrays streamed down from the clouds to the valley below us. Still riding the high of accomplishment, we took the steep (yet shorter) route down via Abol Trail. The sun was starting to dip in the early afternoon around 4:30PM.
Purple Pioneer and I had our fingers crossed to get a hitch to Millinocket and arrange rides from there to Bangor and Boston respectively for return trips home. We passed a day hiking couple and schemed to chat them up in hopes they might offer us a ride at the bottom of the trail. They were visiting from Indiana on a long weekend trip to Maine. Our pace down the mountain carried our trail-leg equipped bodies down the mountain quicker than many sets of day hikers.
We arrived at Abol Campsite to find Wiki, Haze, Feral Goat, and Orphan. Surprised to find them camping there, they greeted us warmly with hugs and congratulations. I was ecstatic to see them. They had so many questions and we were happy to answer all of them. They would be summiting the following day. Seeing the day hikers we had talked to emerge from the trailhead, we gave heartfelt goodbyes to the group and walked towards the road to enact phase 2 of our plan.
Phase 2 was to stand by the road and look forlorn and without transportation. A look we've practiced numerous times between here and Georgia. The hikers immediately offered us a ride before even getting into their car. They were staying just past Millinocket but offered to drive us all the way to Bangor!! After initially rebuffing their offer on the grounds that it was too generous, they explained they were planning to have dinner there anyway and it really wasn't too much trouble.
Unable to turn down such fortunate magic on our last day, we ended up in Bangor. I booked my flight home for the next morning and we ate dinner at a seafood place. I had a coastal shellfish stew that included Maine Lobster and several appetizers and dessert in celebration. Purple Pioneer and I discussed our ravenous appetites and when we thought our bodies would return to normal. Back at a hotel, I retired to a bed for the first of many more future nights in civilization. Thus ended my final day on the Appalachian Trail.
I've learned a lot about myself on this journey. I am all sorts of things. Some things I'm proud of and others less so. I'm selfish, I'm a liar, a cheat, an addict, a narcissist, and many other things I'm not proud of. Ok maybe I don't meet all of those definitions according to DSM criteria (Diagnostic and Statistical Manual of Mental Disorders). But they are still personal characteristics that can be improved upon.
I can choose to dwell on those negatives and let them fuel, low self-confidence, regret, and resentment. Or I can recognize them as what they are, and try to do better for myself, and/or focus on the positives. In terms of the positives, I am a son, a brother, a boyfriend, a father, a friend, a confidant, a physician, a veteran, and many other labels that apply, but do not define me as a person.
I can be kind and giving. I have a sense of humor most people tend to enjoy, I'm fairly decent at reserving judgment until I have all the facts. And I want to believe the best in people, and give those the benefit of the doubt, to name a few.
What this hike has shown me is you can choose to approach things with any viewpoint you want. You can be bummed about the green tunnel you're hiking in all day, with no foreseeable way out. Or you can focus on the views that show up unexpectedly along the way. You can focus on the elevation gain and the miles you need to hike and let that bring you down. Or you can take things one step at a time and try to find the good along the way. Counting smiles and not miles. Enjoying the journey day by day, step-by-step.
Lastly, this is a shared victory. I started this journey, mainly solo with a small set of supporters and family behind me. But along the way, I've met and had a chance to interact with countless wonderful people who have only added to the inspiration, the drive, and the experience. I wanted to thank you all sincerely and from the bottom of my heart.

Everyone played any role in this thru-hike, no matter how big or small. Whether you've been here from the beginning, or just started following last week, I want to say thank you. Some of you have come along willingly, and some I've dragged kicking and screaming from start to finish line. Some have reached out in obvious ways and offered money or support in trail magic, places to sleep, or to deliver insoles. And some have been silent bystanders, quietly (or not so quietly) following along from afar. Many thanks to everyone no matter what your role was, they're all appreciated.
I plan on releasing a couple more blog posts in the following weeks. They'll be updating you on my trip home and return back to the Matrix. I have plans to compile all my nerd stats to give you guys a rundown, and also do a gear review as requested. If there are more burning questions you have, feel free to leave them in the comments and I'll either answer them there or make that a whole other post addressing them.
This truly has been a journey that has provided me with many lifetimes over worth of friendships and memories. Thanks for stowing away.
Affiliate Disclosure
This website contains affiliate links, which means The Trek may receive a percentage of any product or service you purchase using the links in the articles or advertisements. The buyer pays the same price as they would otherwise, and your purchase helps to support The Trek's ongoing goal to serve you quality backpacking advice and information. Thanks for your support!
To learn more, please visit the About This Site page.