Dodging the Deluges and Debris to Damascus
At last!  Back on trail again.  After four days of waiting for clear weather, it was a big relief on Tuesday to get back to doing what we came here to do. Princess, Stephan, and I were driven to the AT trail head by Carrie Sparks, who shared last-minute herbalist wisdom by showing us a plant whose oils can counteract poison ivy.
We three hiked together this first day, with the agreement to meet at a certain shelter if we settled in at different paces.
This first day, the trail wasn't in as bad of shape as expected after the recent heavy rainfall, with just extra leaves and sticks in the trail.  However, there were more unexpected streams and big patches of mud to avoid. The water often claimed the trail as its direct path downhill.
Some of the streams and rivers seemed particularly angry as they roared downhill.  Thank God for sturdy bridges that trail crews have built.
After hiking some distance behind the other two for a while, I was relieved to see them waiting ahead, on the opposite of a forceful stream that had widened considerably.  Stephan directed me upstream to a narrower spot, reached across to take my pack, and then reached over the roaring water to haul me from the boulder on my side to the one on his side.  Unfortunately, no video exists of this harrowing, National Geographic rescue.  To others it might have appeared nondescript, but the soundtrack of the water added to the drama. Below: Stephan planning the rescue.
We three shared the wooden floor of a shelter this first night back outside. Happily, none of the usual rodent residents made themselves evident. Princess was chilly and piled on the headgear.  We hikers resemble the mice, making our own cozy little nests for the night.
Wednesday found us separated right from the start, since they left by 6:30 a.m. by the light of their headlamps. I, however, take much longer to get out of camp, up to two hours, because of my 30 minutes of yoga and slowness in packing up.  Hiking in the dark also holds absolutely zero appeal to me.
Today was a day of water, mud, and animals.  This section had many more leaves covering the trail and was much wetter, thanks to the storm.
In sections where only two streams were indicated in my guidebook and on my Gutthook trail app, I crossed over at least a dozen. Boot-sucking mud puddles caught me by surprise, and the rocky trail was more treacherous when wet.
But the reward was wonderful: Grayson Highlands State Park. With high open meadows (called balds) and sweeping views of the mountains on all sides, it was a fine reward for dodging debris and deluges for two days.  Throw in the ponies and cattle that are free to roam within the park, and you've got a real crowd pleaser with the hikers, so often limited to seeing just trees, trees, and more trees.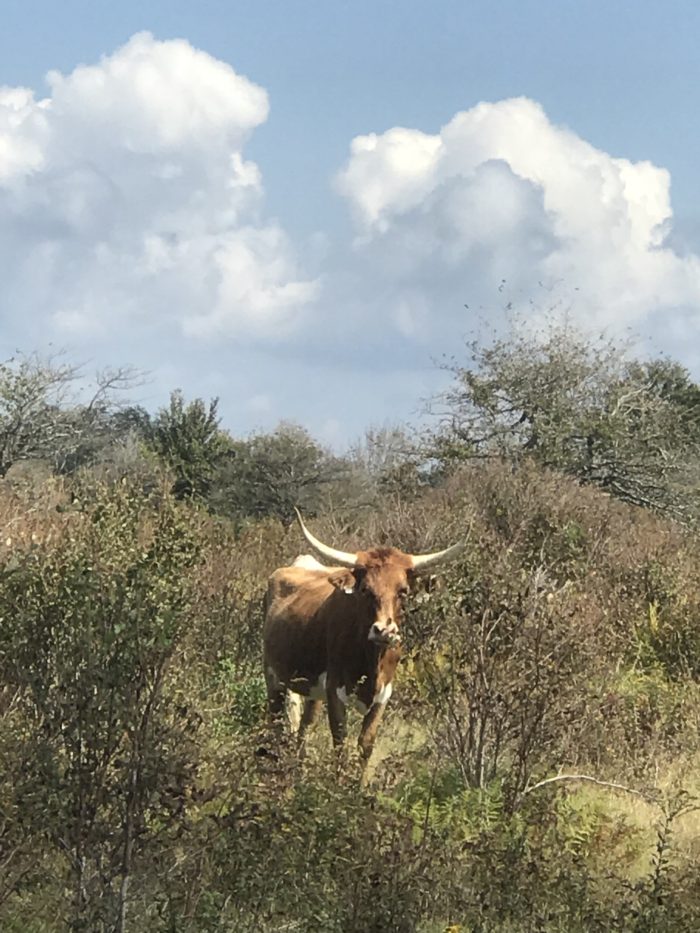 Even with the animal distractions, I found this to be my most tiring day, although "just" 12 miles, short by many other hikers' standards (not mine).  Dodging mud, streams, slippery rocks, and roots took a toll. Happily, we slept in very comfy beds at the Grayson Highlands General Store and Inn.
And, the next morning, I had my first French toast in years, thanks to the gluten-free bread the proprietor had. With an accompanying veggie omelette, I wasn't hungry for hours after this breakfast.
As tiring as the previous day had been, the third day out was a total delight. There were more balds with sweeping views of countless layers of mountains in the distance, and yet more ponies to befriend.
We three hikers had agreed to separate today. They have been hiking more months than I have this year and prefer higher-mileage days. Even though they had been nice companions, I didn't mind, since I prefer hiking on my own.
I camped alone that night, in a nice site that had obviously been used by others. Not far away was a flower-filled meadow with yet more sweeping mountain views. It was a delightful evening sleeping outdoors.
I fell in love with the AT the next morning. The weather was glorious and the panoramic views continued. This trail now has a permanent place in my heart.
Even though  I had 12 miles I needed to hike that day to get to a shelter, I greatly enjoyed taking time to talk with several hikers and I met along the way.
I was pleased to be able to thank a volunteer from a trail association who was doing cleanup work on the trail. There are 33 hardworking associations that take care of the entire length of this trail.
One pair of young hikers was from Australia. They had sold their successful restaurant in order to have a year of travel. After time in Hawaii, they flew to the East Coast to hike the entire 2,200 miles of the AT. They plan on a stop at Tahiti on the way home. What a way to travel!  They are pictured here using their water filters.
Another young man, named Turtle because of his slow pace, takes photos as he hikes (I can relate to this). He wanted advice on his love life. He wants to do another long-distance backpacking trip, but his girlfriend is not enthusiastic about him being gone for seven months.  It was hard to come up with a good solution to that dilemma.
I also finally saw bears one and two in the bear class of 2018. They were about 30 yards away, and crashed through the forest to get away from big, scary me. But the joke was on me. About two minutes later, when coming around a blind turn in the trail, I was scared out of my skin by a large, dark animal jumping out at me. It turns out it was a hiker's dog, not bear three, and he really wasn't all that large after all.
It was later than usual when I finally pulled up to my shelter.  With dusk rapidly approaching, I worked quickly, putting up my tarp, and then began  the search for the water source that was supposed to be there. It was impossible to find. I searched for over half an hour before I finally found a beaten path going downhill  to the little spring.
It was nearly dark by the time I got the water back to camp, which left me feeling pretty frazzled.  I had to cook my  dinner by the light of my headlamp.  The next morning I composed a very polite suggestion in the shelter journal  that they post a sign on a corner of the shelter indicating the spring's location.  I looked up at the corner of the shelter. There was the sign.
Oh well. I tore my page out of the journal. Lesson learned: take your time, don't panic, look more carefully.
At last,  I was on my way to Damascus, which bills itself as Trail Town USA. This has been my primary goal  for this year's hike.  As it approaches town, about a mile of the Appalachian Trail shares the path of the Virginia Creeper bike trail, a very popular route that thousands of people ride on each year.  It was beautiful.
The AT led me right down Main Street, unlike its entry into other trail towns.
Bike shops were everywhere along with trailers loaded with bikes. They transport  the cyclists uphill 17 miles so that they can then ride downhill back into town. Murals celebrating the Appalachian Trail adorn many walls.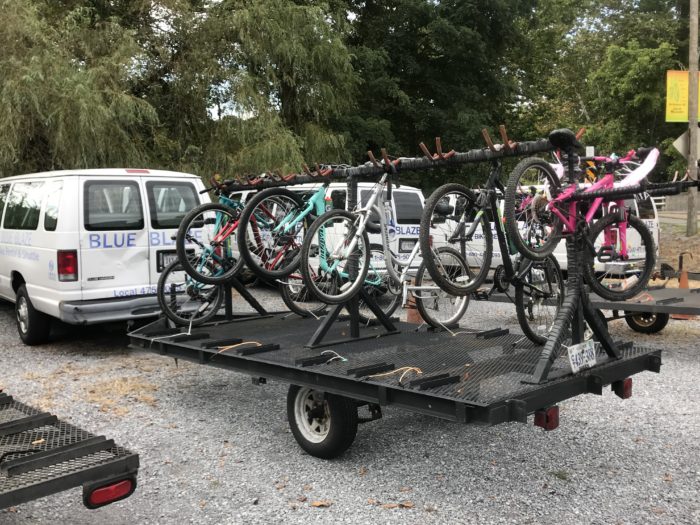 I really enjoyed my zero day here. I attended the local Methodist Church, riding there on a loaner bike from the hostel I'm staying in.
The hostel owner also loaned me a car so that I could  drive to a restaurant I had learned about the previous week. On the drive through the rolling countryside, I passed an old derelict mill.
Soon I came to my destination:  the Harvest Table,  an award-winning restaurant owned by well-known author Barbara Kingsolver. Their menu is organic with local, seasonal foods. I greatly enjoyed my trout and the welcoming atmosphere. I wished it had been a field trip for my book club.
And now, on I go.  I'm so pleased I've been able to continue for the past three weeks, and greatly look forward to seeing the future autumnal sights of Roan Mountain and the Smokies.
Onward. Southward. Georgia bound.
Affiliate Disclosure
This website contains affiliate links, which means The Trek may receive a percentage of any product or service you purchase using the links in the articles or advertisements. The buyer pays the same price as they would otherwise, and your purchase helps to support The Trek's ongoing goal to serve you quality backpacking advice and information. Thanks for your support!
To learn more, please visit the About This Site page.