Kristen's Before-and-After Appalachian Trail Gear
Backpacking gear can be overwhelming. There seem to be countless options for everything from your major items to smaller necessities. I guess I'm an "experienced" backpacker now, so gear talk excites me instead of intimidates me. I haven't been backpacking my whole life, but started about five years ago so much of my AT gear was still (what I call) "beginner gear."
A lot of my gear made it from beginning to end. It wasn't the best or the lightest, but I was able to make it work.
Related reading: The Trek's recommended Appalachian Trail Thru-Hiker Gear List.
The Short and Skinny
Pack weight when I started (with food and water): 33.8 pounds

I don't know my base weight when I started, but I overpacked on food so it was probably low 20s. Once I dropped my cold-weather gear my pack stayed sub-30 pounds fully packed with food and water.
Pack
My pack stayed the same. It came with a pack cover, which I started with, but, because I hung my sleeping pad on the outside of my pack, didn't fit it right. I picked up the Ultra-Sil in Franklin, NC.
Pack Lowdown
What I like:
Comfortable
Mesh back paneling that helps with ventilation
Readily available at outdoor retailers so you can try it on before purchasing (which, as a beginner, I needed)
Reliable brand
What I don't like:
Weight
Hard-to-reach side pockets
Full disclosure: I did zero research on packs before buying one. I practically walked into the store holding a huge "help me" sign. I was then shown the women's-specific options. The options got a heck of a lot more limited. This seems to have changed in recent years, but five years ago, my options were as follows:
One store brand option that was dark pink.
One Gregory option that was purple with hot pink straps.
One Deuter option that included fake flowers attached to it.
The Osprey Aura that was in no way offensive to the feminist in me. Done.
The pack is incredibly comfortable and durable. Five years and a couple thousand miles later it has nothing more than a tiny wear in the fabric in one spot.
The only real downside to the pack is that it's heavy, weighing nearly four pounds. For a hike lasting several months I'm tempted to say that I'd rather cut weight elsewhere than on the pack. The pack is actually attached to your body and I was able to hike four to five months without any back or hip pain.
Shelter
This tent is discontinued. I kept it from beginning to end.
Tent Lowdown
Why this tent worked
The biggest complaint about this tent was that it was too small. I bought the two-person tent, which meant that I got a tent that was larger than a one-person tent, but not as large as the average two person. I got the extra room but not the extra weight.
It's freestanding. The Appalachian Trail, most notably in the northern states, has shelters that have wooden tent platforms. Freestanding is key here.
What I don't like
The door. I do think a side door would be easier but, since I use it solo, it's not a big deal.
I truly did not think my tent was going to last the whole way. Not because it's a bad product; in fact, I love it. But it's five years old and I have put it through the wringer. It somehow survived a windstorm in Iceland with winds so high that we were eventually evacuated off the trail. It has one slightly bent pole, several patched tears, and the cord inside the poles has worn thin, causing the poles to slide apart. It is quite literally at the end of its life, but it's gotten me through a lot.
Sleep System
Sleeping Bags
I tried three different bags.
The Lowdown
I started with the MH Flame because of the lower temps I expected in March and April. It's synthetic so it's heavy and bulky. I dumped it as soon as temperatures got high enough.
I borrowed the Kelty Cosmic Down. It's a 40-degree bag and designed for men—not a huge deal, but men and women lose heat in different places, therefore bags are designed accordingly. I was way too cold at night, even in the warmer months, and swapped to the Spark.
Of the three, the Spark was definitely the one I was most pleased with. It wouldn't be warm enough for the first few hundred miles of the AT but (with a liner) was fine through the higher elevations in the White Mountains.
Sleeping Pads
I started and ended with the Z-Lite Sol, and used the ProLite Plus for a small piece in the middle.
Sleeping Pad Lowdown
Z Lite Sol – What worked:
It's low maintenance. I'm pretty lazy when I get to camp. My favorite thing about this sleeping pad is that you can just throw it down and fold it back up again in seconds.
You can make it your size. The pad does come in two sizes, but to cut more weight, you can chop off extra panels.
It's mobile. I'd often take it out of my tent at camp to sit or lie on by fires or while stretching or eating dinner.
What didn't work:
It's bulky. The section I didn't use the pad was for part of the White Mountains. There was a lot of climbing and often I was literally using trees on the side of the trail to pull myself up or scoot around in awkward positions. The bulky pad hanging off the bottom of my pack got in the way.
It makes rain covers fit funny and the sides of my pack were always getting wet.
Shoes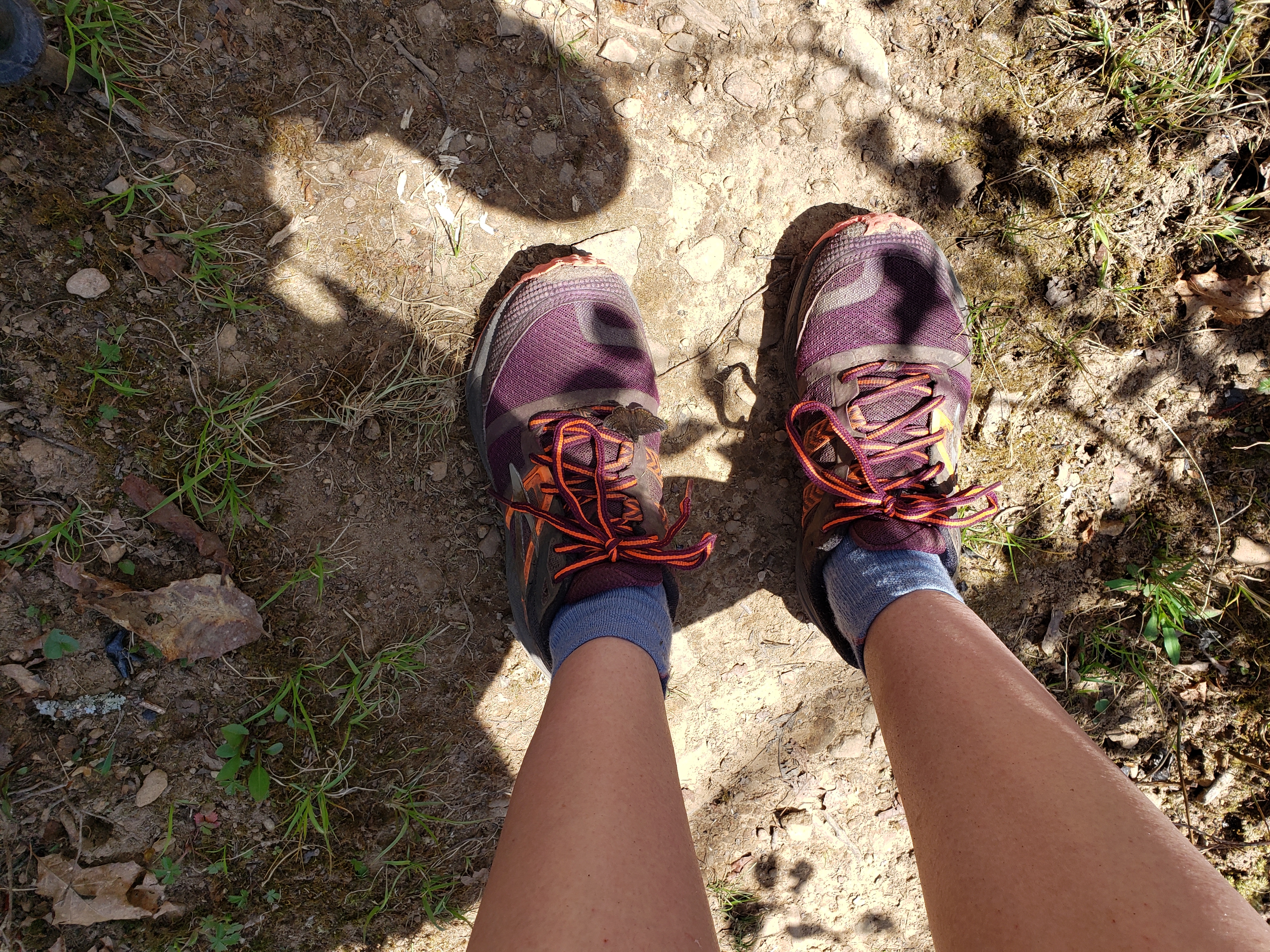 I used the Salomon pair for five days and the Brooks Cascadia for the rest.
Footwear Lowdown
As a marathon runner, I have a special interest in athletic footwear, and I got the bright idea that I would test out different pairs of trail runners on the AT. What better way to test shoes than while thru-hiking, right?
I started with the Brooks. The vast majority of hikers use Altra or Salomon. There were significantly less Brooks wearers, but every one of them loved their Brooks, and whenever I crossed paths with one of them there was always some kind of acknowledgment that we had the same shoes.
After my first pair of Brooks wore out I tried the Salomons, which I chose because they're one of the leading brands and I wanted to find out why. I found them terrible. My feet hurt constantly and I got a ton of blisters within a couple of days. I lasted five days before I couldn't stand them anymore and switched back to Brooks.
What I like:
My first pair of Cascadias lasted 730 miles and, even then, I only swapped them out because the cushioning got worn down (trail runners should really only last 500 miles). The shoe itself was still in good shape with no tears or holes or even so much as a loose thread. My second pair of Brooks lasted over 800 miles, with only some superficial cracking in the rubber on the side.
The Brooks are wider than the Salomons but offer more support than the Altras. This isn't necessarily a fair comparison because the zero-drop Lone Peak are a specific preference (recommended for people who don't strike with their heel) but I do feel the Brooks is the best of both worlds.
What I don't like:
The worst I can say is that the Cascadia 13 didn't have great color options
Clothing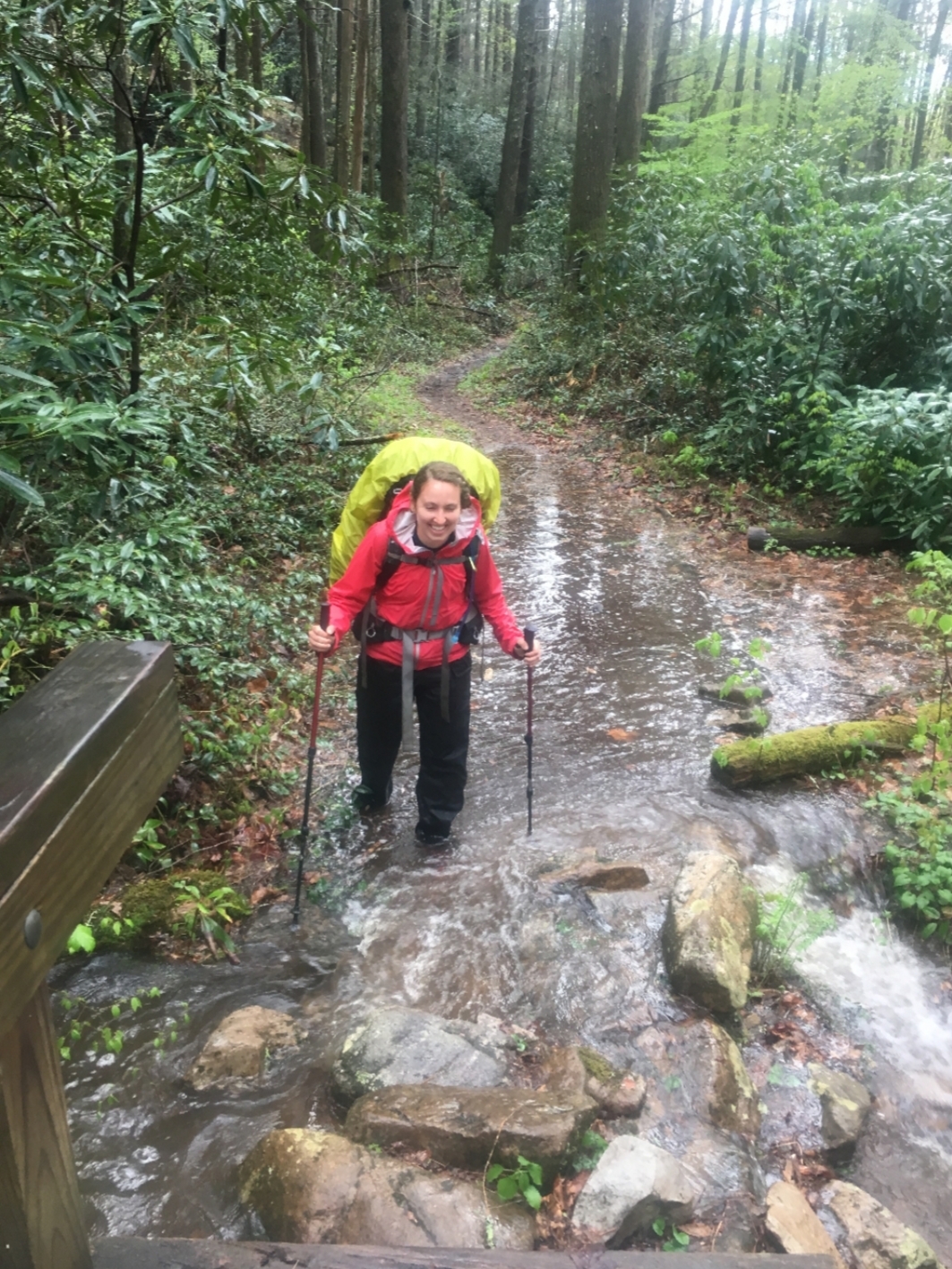 Rain Gear
Rain Gear Lowdown
I used the rain jacket the whole time, mostly because I didn't get the opportunity to switch it out. I love Eddie Bauer but do not recommend this product for this trail. It's not designed to handle the copious water that comes with the Appalachian Trail. I had some wet days.
I kept the pants until Damascus. They worked great but I dumped them when I started wearing shorts. I carried a second pair of shorts in case the first got soaked through. It was lighter to carry two pairs of shorts than shorts and the pants.
Apparel Tops
Apparel Tops Lowdown
All of the Lululemon gear lasted the whole trail and most of it still looks like new. I started with the Smartwool Merino 250 for my long sleeve. It gained several holes in it (not a reflection on the product; I have owned and used the shirt for five years prior to the AT). I picked up a clearance REI Merino long sleeve to replace it. I like the fit of the REI one better, but the Smartwool option is softer.
Apparel Bottoms
Apparel Bottoms Lowdown
I started with the Nike shorts and switched to the Lululemon. The Nike were fine; the Lululemon were better. I started with two pairs of pants because I thought I'd use one for hiking and one for sleeping, but I dumped the extra pair pretty quickly.
Cold-Weather Gear
Gloves
Cold-Weather Gear Lowdown
I only carried the Patagonia fleece for colder sections of the trail. The puffy I carried the entire time and used it as a pillow at night.
I actually brought a pair of glove liners that I pulled out of my ski gloves. They worked fine, but if I had started a week or two earlier, probably wouldn't have been warm enough.
Toiletries and First Aid
Toothbrush
Toothpaste
Floss
Sunscreen
Baby powder
Nail clippers
Contacts
Eye drops
Chapstick
Hand sanitizer
Face wipes
Mini hairbrush
Toiletries Lowdown
The baby powder was the only thing that got cut. I had read that a lot of people use baby powder on the trail and that it's multi-use. I used it zero times and by the NOC tossed it and never looked back. I did not use the Wilderness Wipes, just generic face wipes—they're way less expensive.
I bought a backpacking first-aid kit from REI, but then tailored it to what I needed… or thought I needed. Ironically, I took the medical tape out of the pack and, other than Band-Aids, was the only thing I needed because I sprained a finger and ended up having to buy more.
Electronics and Gadgets
Phone: Samsung Galaxy
Mini Tripod
Electronics and Gadgets Lowdown
I started with the smaller portable charger and used that for more than half of the hike. It gave me 1.25 charges (this varies per phone, and iPhones will get more charges than Androids). There was very little service in the South and I never used my phone to watch shows or play games. The limited use meant that the smaller battery pack worked fine. As I gained more service in the North, I found it worth the extra weight to get a larger battery pack so I could enjoy the comfort of checking in with loved ones without worrying about saving battery. Both battery packs weigh about two ounces more than advertised
Kitchen and Water
Two Smartwater 700 ML water bottles
Kitchen and Water Lowdown
I used the Platypus Hoser because it's light. Because of the minimalistic design, it's easy to spill and it frequently leaks from the mouthpiece. The MiniMo comes with a stand, but it balances just as well without it so I tossed that part.
I carried two Smartwater bottles, one for dirty water and one for clean. Sawyer was the most popular filter on trail. They have the Regular, the Mini, and the Micro. I carried the Mini, which my research showed actually had the worst reviews of the three because it filters slowly and supposedly gets clogged. It was slower but not terrible, and I had no issues with it overall. I didn't carry the backflush system for the filter. It can be done with the sports cap on the Smartwater bottle.
The Rest of the Gear
Two bandanas
Book
Journal and pen
Paracord (for bear bag)
The trekking poles are the only pair I've ever owned. They worked fine, though I can see now the benefits of cork handles. I replaced the tips somewhere in New Hampshire.
I carried two bandanas, one for cleanup that could get dirty—most often using it on myself like a towel or wiping the inside of my tent when it got wet. The second was for my JetBoil.
Final Notes
A lot of my gear made it from beginning to end. I don't think I necessarily had the best stuff, but it was quality enough to last and/or I was able to make it work. I think the biggest gear changes I look forward to making in the future are:
Sleeping bag. I'd like to find something lighter and plan on doing research on quilts over bags.
Rain jacket. I think it's time to look at Gore-Tex options.
Tent. I don't have much of a choice here since my tent is falling apart, but I'm excited to see what new stuff is out there.
Affiliate Disclosure
This website contains affiliate links, which means The Trek may receive a percentage of any product or service you purchase using the links in the articles or advertisements. The buyer pays the same price as they would otherwise, and your purchase helps to support The Trek's ongoing goal to serve you quality backpacking advice and information. Thanks for your support!
To learn more, please visit the About This Site page.