Mike's Appalachian Trail Gear List
The Trek provides a great gear list builder that shows the individual weight of the gear you input.  It's broken down into several common-sense sections, and I've tried to fit my gear into those sections.  I'll post the full list at the bottom of this page.  I'll also go into detail about each of the sections.  You can also check out their suggested Appalachian Trail gear list.
Luxury
This is the category that I'm sure I'll take the most heat over.  These are things that no-one needs walking a 2,000+ mile trail.  I want them, I'm prepared to carry the extra weight, and I'm bringing them.  The coffee items are in a dedicated 4L Sea to Summit ultralight dry bag.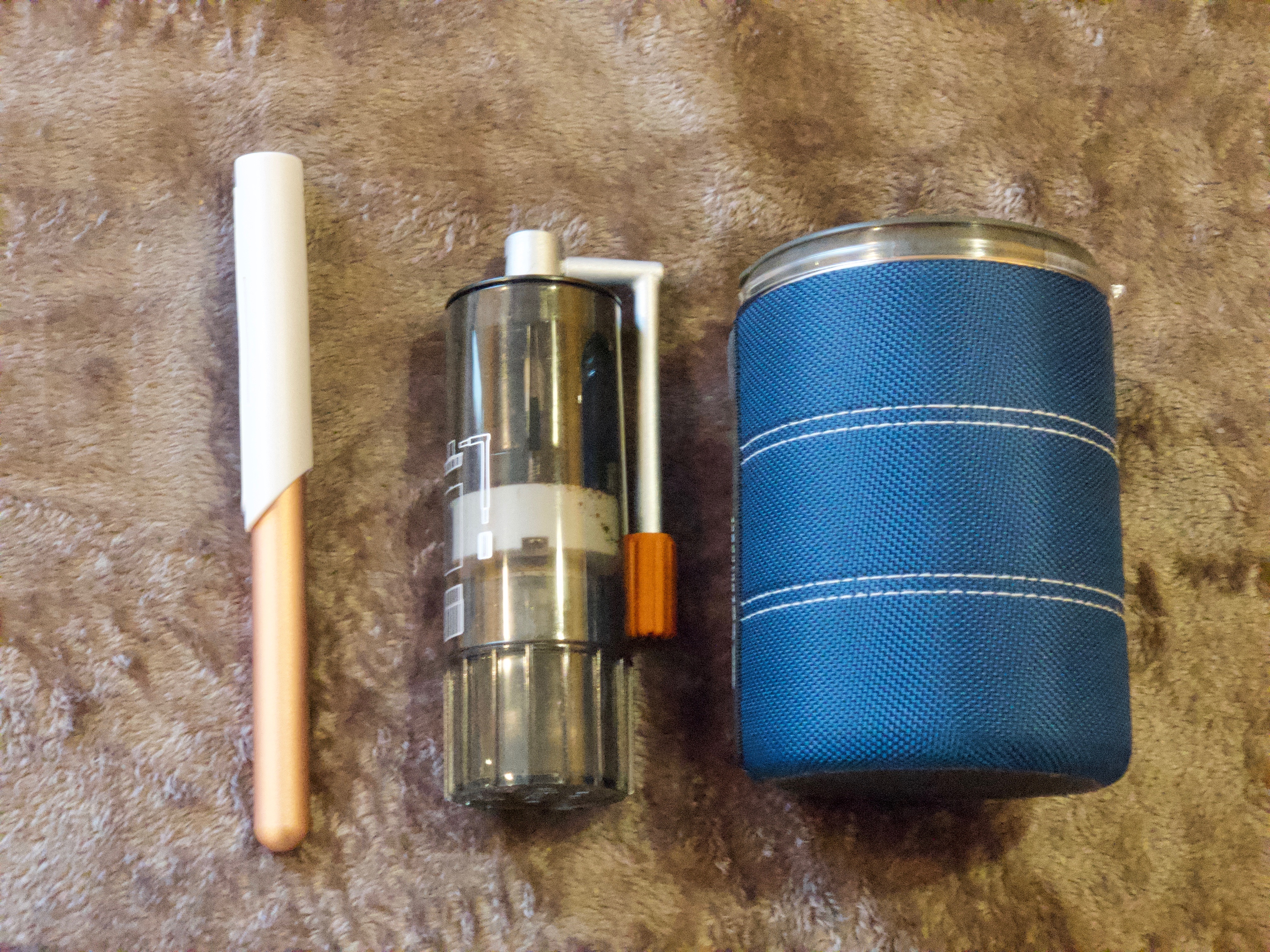 Yes, that's an electric toothbrush.  It weighs 1.9 ounces.  I can live with that.  And the coffee bean grinder and french press, nonnegotiable.
Misc
Another category where I'm carrying a nonstandard (if there is such a thing) amount of weight. Although the camera case and lenses are the only extra items in this section as far as I can tell.
Hygiene/ First Aid/ Survival
My hygiene and first aid kits are probably more thorough than they need to be.  All in for both I'm at 24.2 ounces.  That's not terrible considering how important these things are, but I'll use the "If I haven't touched it in a week" rule to continuously monitor whether these are things I need or am just carrying.  All of the hygiene and first aid items are kept together in a 4L Sea to Summit ultralight dry bag.
Hygiene
In my hygiene kit I have a Quip toothbrush, travel size toothpaste, brush (with the handle still attached… no, just no), nail clippers, travel size Q-tips, earplugs, and a case and cleaning solution for a mouth guard I wear at night to keep from grinding my teeth.  All of this is in a small Sea to Summit toiletries bag.
First Aid
For first aid, I have anti-friction rub, Leukotape P, Neosporin, iodine, sunscreen, lip balm, loperamide, Zofran, Cipro, and ibuprofen.  All of this is in a ziplock bag, except the tape.
Bathroom
To facilitate going to the bathroom I have a trowel, toilet paper, baby wipes, and hand sanitizer that are in an outside pocket of my pack.
Survival
These items are also pretty standard, I think except for the MSR Guardian.  It might be (is) overkill for water treatment.  I also will never have to think about Giardia, so it's worth it for me.  All of these I will either wear or will be in an external pocket of my pack.
Kitchen
My cooking gear consists of a Jetboil Minimo, with two 100g Snow Peak Gigapower fuel canisters.  The extra fuel is my one redundant item out of fear of running out of fuel and not being able to make coffee.  I also carry a Toaks long-handled titanium spoon, a Sea to Summit X-Cup, and I will be keeping my food in a BearVault BV450.  I considered a bear bag, but the convenience of a canister outweighed the extra pound and a half.  It was merely a personal choice.  The Jetboil is in a dedicated 4L Sea to Summit ultralight dry bag.
Clothing
For clothes, both cold and warm, I am taking one pair on convertible pants (the bottom legs zip off to make them shorts), two shirts, two pairs of underwear, three pairs of socks (one will be dedicated to sleeping and will always be dry).  For cold weather only I'll have UnderArmor Coldgear top and bottoms, a silkweight long sleeve top, a Buff, one pair of Dirty Girl Gaiters, a Beanie, and a pair of glove liners.  Everything I'm not wearing will be in a dedicated 2L Sea to Summit Ultra-Sil dry bag.
Pack
For my pack, I have a 2015 model Gregory Baltoro 75.  It's big, it's ugly, and it's heavy, but it gets the job done.  Someday I'll upgrade this beast, but not before the trail this spring.
Sleep System
I've just upgraded my sleep system to a much lighter and more compact setup.  My new bag is a 20-degree bag, so initially, I'm going to take a bag liner with me and make a determination if it's needed or if I'm mailing it home.  Eventually, I intend to send the 20-degree bag home and use the liner and switch back later if I need to.  I'm still waiting on my new kit, and so I have no pictures to post at this time.  When my gear comes in, I'll update this post.
Shelter
I also upgraded my tent and am waiting for it too.  I'll update this section with pictures when I get my kit.  I switched from a 2015 Copper Spur UL2 to the UL1.  The weight isn't that much difference, just a few ounces, but the space in the pack is a big difference and worth the switch.
All Other Things
This list so far is a very comprehensive list of what I'll be carrying with me.  The only things not here are a couple of random items that didn't easily input into the list builder.  I have charging cords for iPhone, inReach, and the Anker Powerbank.  Those are in a dedicated 1L Sea to Summit ultralight dry bag.  I'm also bringing a pair of wireless, waterproof headphones and a lightweight selfie stick.  I'm on the fence about the stick and the headphones, and they both may get mailed home fairly quickly.
That's my gear list.  I'm sure there will be a ton of opinions on what I'm carrying and why.  There are as many opinions on gear as there are stars in the sky.  No two setups are alike, nor should they be.  What works for me, or you, might not work for anyone else on the planet, but as long as it works for the person carrying it, that's all that matters isn't it?
A quick note about my gear list.  I've not included the cost of each item on my list because it doesn't accurately show what I paid for each item.  I haven't paid the retail price for much of my gear and a lot of my gear is years old.
I hope that you'll join me again as I continue to document my journey.  Next up for me are shakedown hikes to fine-tune my kit.
Affiliate Disclosure
This website contains affiliate links, which means The Trek may receive a percentage of any product or service you purchase using the links in the articles or advertisements. The buyer pays the same price as they would otherwise, and your purchase helps to support The Trek's ongoing goal to serve you quality backpacking advice and information. Thanks for your support!
To learn more, please visit the About This Site page.