Milk Farts and Christmas Songs – Cruising Into Hiawassee (Days 6-9, Neel's Gap to Hiawassee)
Day 6
Start: Neel's Gap
Finish: Low Gap Campsite
AT Miles Hiked Today: 11.5
Overall AT Miles Hiked: 43.2
Miles To Go Until Katahdin: 2,145.9
Last night we celebrated Thomas' 25th birthday by building him a birthday cake only a thru hiker could enjoy.
We all woke up at 8:00am, ready to hit the trail. As we packed up the cabin, Thomas and I chugged a few Coca-Colas, and Kodak chugged a bunch of 2% milk in the fridge, temporarily earning him the trail name Milk Fart for the rest of the day. I've been out of the corporate life for one week, and already my sense of humor has devolved to that of a middle school boy.
Seltzer decided to test his knee with a few easy miles later in the day, and Nilla decided to stay with him. We said our tearful goodbyes outside of the outfitters. It's been great hiking with you two, see you up the trail I hope!
Our legs were feeling great hiking out of the gap. We cleared the 700 feet of elevation gain up to Levelland Mountain very easily. The only brief problem was that it hailed on us a bit on the way up. I can already tell the weather over the next few nights is going to be brutal… The forecast called for subfreezing temps both nights.
Over the next hour or so we summited Wolf Laurel Top and Cowrock Mountain, again without much difficulty.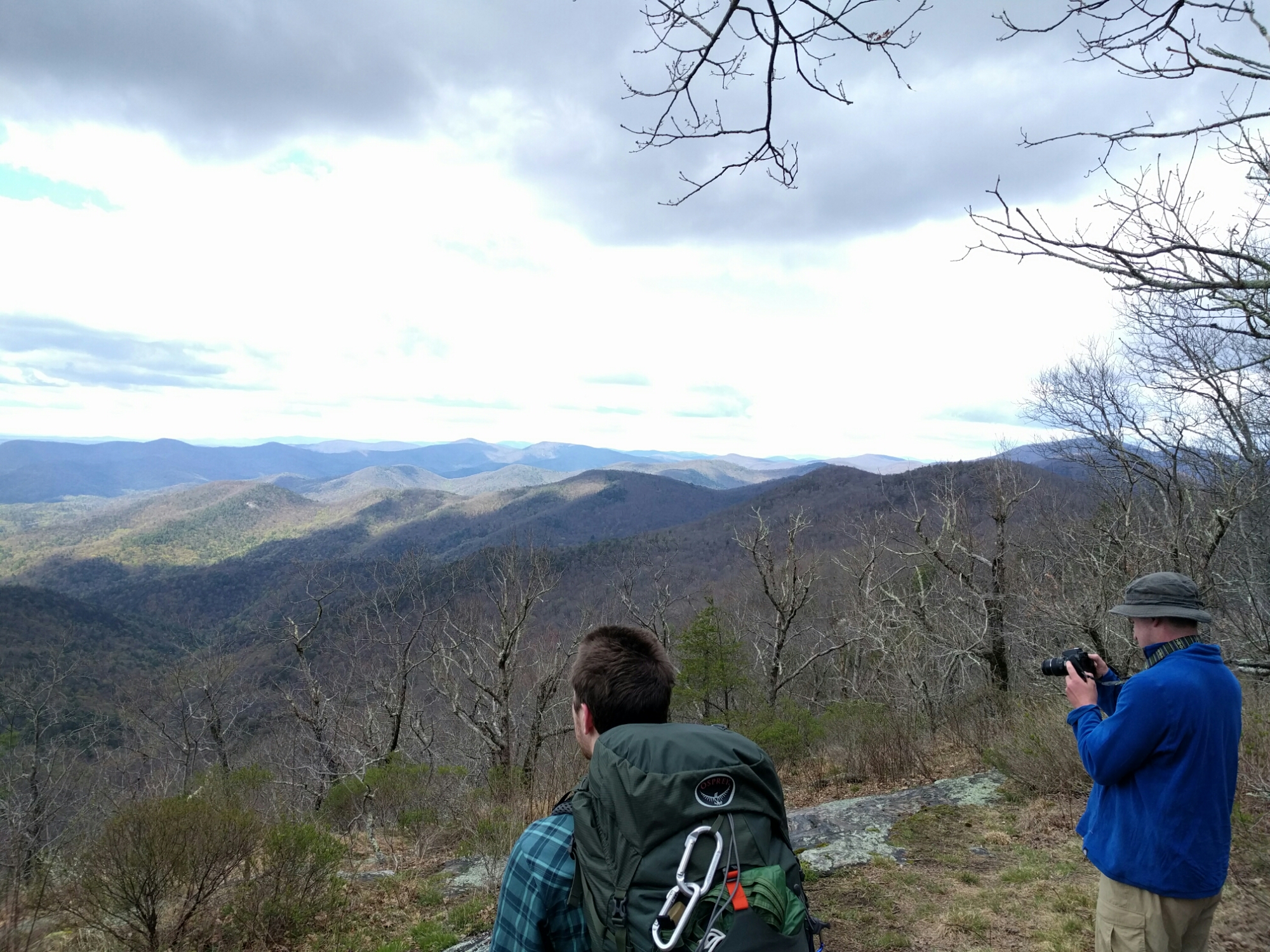 Aside from one small stretch with crazy elevation gain over the course of a half mile, most of the trail today was very reasonable. Not many rocks along the trail. We cruised along at around 3mph and sang Christmas songs to pass the time (don't ask, we just started doing it).
We rolled into camp around 3:30 feeling proud of our longest day yet, 11.5 miles!
It seems like we lost the bubble we had been hiking with. Thank God. I was sick of dealing with 40 people at each campsite. They say 20% of prospective thru hikers will have dropped out by Neel's Gap.
I can feel myself getting stronger, but it's coming at the price of constant hunger. I was ravenous all day despite snacking on  over 1,000 calories as we hiked. I need to step up my calories as we hit the next town in a few days.
Dinner tonight was a packet of salmon, almond butter, and olive oil wrapped up in two tortillas. Mmm, mmm!
It's pretty cold outside right now. I'm actually already curled up in my sleeping bag and it's only 6:00! I'm sleeping with my water filter in my sleeping bag so it doesn't freeze tonight. Wish us luck that there's no more hail tonight…
 
Day 7
Start: Low Gap Campsite
Finish: Rocky Mountain Summit Campsite
AT Miles Hiked Today: 11.1
Overall AT Miles Hiked: 54.3
Miles To Go Until Katahdin: 2,134.8
Coldddddd waking up today. We missed most of the wind last night, fortunately, but the temps were hovering near freezing as we packed up. Got hailed on or rained on for a bit around midnight.
The plan for the day was to make it to Unicoi Gap, around 10 miles in, and see how we felt from there. The elevation profile on the day didn't look bad so we were confident in covering that ground pretty quickly.
The morning was easy terrain, but the cold combined with massive wind made for pretty miserable hiking. I had on my down jacket, winter hat and gloves for almost the entire day.
As we exited the crazy winds, the trail became extremely rocky, so we were stuck looking at our feet most of the rest of the day.
Thomas' and my right ankles were both acting up throughout the day. My left knee feels almost 100% better though. This trail, it will break you one way or another, the question is can you guess the body part that will hurt the most at the end of the day?
As we picked out way down Blue Mountain towards Unicoi Gap, Thomas and I were both limping, and Kodak broke his third trekking pole of the trip. We were a dismal crew as we neared the bottom.
Then, we saw it through the trees.
TRAIL MAGIC AT UNICOI GAP.
Members of the Macedonia Baptist Church out of Manchester GA had driven over an hour and a half to feed hungry hikers. You all rock! After 2 burgers, a banana, 2 bags of chips and a Coca-Cola, I set off up the other side of Unicoi Gap towards Rocky Mountain.
Thomas, Kodak and I hiked up the mountain alongside New Hampshire Bob, a retired gentleman crushing big miles out the gate. We decided to camp up at the top of Rocky Mountain for the night, a total of 11.1 miles today. Dry camp tonight with over two miles to our next water tomorrow. For the record, I still ate my normal dinner after eating all that trail magic.
After two long days, my legs are definitely feeling the burn. But, we crossed the 50 mile mark today! We will likely hike around 10 tomorrow for an easy 5 out to Dick's Creek Gap / Hiawasee on Monday morning. Low tonight of 25 degrees. If I never post again, assume I froze to death tonight.
Day 8
Start: Rocky Mountain Summit Campsite
Finish: Deep Gap Shelter 
AT Miles Hiked Today: 11.7
Overall AT Miles Hiked: 66.0
Miles To Go Until Katahdin: 2,123.1
I don't know if it's a good or a bad thing that each morning something different on my body hurts. My left knee, then my right ankle, then my right calf, now my right hip hurts.
So cold this morning waking up. I didn't want to get out of my tent, but New Hampshire Bob was up and at em early, so I reluctantly rolled out of my sleeping bag. Everything was frozen in camp. We hustled out of camp at 8:15. I couldn't feel my hands for the first 30 minutes we were hiking.
We got fantastic views hiking off of Rocky Mountain, but it was too cold to stop and enjoy.
As we got to lower elevation we stopped and regrouped. It felt 10 degrees warmer once we were off that summit.
We summited Tray Mountain around 10, and I started feeling like junk. The rest of the day I felt awful, absolutely awful. I was slow, my right calf hurt, and I was generally a grumpy dude. So not many pictures for the rest of the day.
We rolled into Deep Gap Shelter around 4:00, and I simultaneously wanted to climb into my sleeping bag, and also eat 2,000 calories for dinner. I ate packaged salmon, almond butter, an epic bison bar, and pumpkin seeds wrapped up in two tortillas. It was phenomenal.
Also, Nilla's brother and dad were at the shelter! Goose and Master Chief! Awesome meeting them, and I got to see Taylor and her pup Blue for the first time since before Neel's Gap. New Hampshire Bob also camped nearby. My spirits were slightly lifted as I went down to go to sleep at 7pm.
Seems like the herd is thinning out, I don't see nearly as many hikers during the day. It's supposed to be warmer tomorrow. Fingers crossed. I'm really looking forward to a hot shower and a good meal (or two, or three, or four).
Day 9
Start: Deep Gap Shelter 
Finish: Dick's Creek Gap / Hiawassee GA
AT Miles Hiked Today: 3.6
Overall AT Miles Hiked: 69.6
Miles To Go Until Katahdin: 2,119.5
So warm this morning! Mid 40's as I got up. We were out of camp at 8:10 and hiking in the fog downhill towards Dick's Creek Gap.
We rolled into the gap at 9:45. Hiawassee is 11 miles from the Gap, so we had a shuttle coming at 11:00am to bring us to the Budget Inn downtown. I caught up on some blogging, and Kodak ran over to Top of Georgia hostel to retrieve some items he mailed ahead.
Now, I'm sitting in the world's sketchiest Budget Inn, enjoying service for the first time in 4 days.  We're getting ready to do a restaurant tour to find burgers and beer.
Next stop, Franklin NC on Friday! We hopefully cross over into NC tomorrow evening! Exciting stuff. I'm so happy to still be healthy and hiking. So many dropouts at Neel's Gap and Unicoi Gap. Ready to roll on into North Carolina tomorrow and the Smokies in a few weeks!!
Affiliate Disclosure
This website contains affiliate links, which means The Trek may receive a percentage of any product or service you purchase using the links in the articles or advertisements. The buyer pays the same price as they would otherwise, and your purchase helps to support The Trek's ongoing goal to serve you quality backpacking advice and information. Thanks for your support!
To learn more, please visit the About This Site page.