On to a New State!
These past five days of hiking have been both rewarding and challenging.  In fact, that pretty much sums up the majority of the AT experience.  I fully realize that I, and nearly all of the other backpackers in this stretch, complain about the endless fields of rocks and boulders, but we willingly signed up for this. So the sooner we accept it and, in the words of Nike, "Just Do It," the more we'll enjoy this adventure.
My last post left you at Palmerton, PA, as I finished up a zero day in a cramped little hostel behind a restaurant.  The next day presented me with the toughest uphill climb I've had during the entirety of the AT: up from the Lehigh Gap.  Perhaps I shouldn't have deleted the erroneous autocorrect that appeared: "Gasp."  This was going to be doubly tough since I was carrying the added weight of a full load of four days' food and two liters of water (4.4 pounds).  There would be no more water sources till my destination 13 miles later.
The first quarter hour was merely ridiculously steep dirt and rocks.  The other 30-45 minutes involved telescoping my poles, fastening them to the back of my backpack, and grunting up huge boulders, hand over hand.
Thank God it wasn't raining!  If it had been, there was a "winter trail" I could have used. Given the good weather and early hour, I felt the need to get this under my belt.  I considered it good training for what awaits me in NH and ME.
So I did it, only looking down when I felt secure, and was proud when I successfully reached the top.   I will admit to having asked a nimble young female hiker (appropriated named Turbo) for an assist in the form of a butt push up one big boulder.  Hikers help hikers.
The rest of the day was fine, till the skies opened up and I had a couple of hours of total downpours.  The rain gear did its job… somewhat.  No system is perfect.
My lodging that night was the most unique I've had on the AT.  I slept in a garage. Beside a chain saw.  Next to the car.
And not far from the fake rat caught in a rat trap and rubber snake in an ice chest, both placed there by the odd owner who thought they were good jokes on hikers.
Mechanical Man and Crayon Lady  have been generously opening up their home to hikers for decades.
After some guests abused the tenting privileges in the yard, all are now required to sleep in the empty half of the garage. I was the sole inhabitant that night, with use of  the family bathroom upstairs, drinking water access, electricity, a fan drying my wet clothing, the most space I've ever had for my morning stretches, and escape from the pounding rain outside.  As they say, any carport in a storm.  I appreciated all of the above, including the opportunity to have this unique experience.  Bizarre, you might say.
The next day was predictably bright and sunny, now that Mom Nature had gotten that stuff out of her system.  The usual PA hiking:  up to a ridge, stay up there, dodge or walk on rocks, then head downhill at the end of the day.
During this nice short day of 8.5 miles,  I met a hiker named Pete "Space Rock" (an aeronautical engineer), who hoped to stay in the same low grade hotel in which I had booked a room.  Arriving with me and never having received a return call from the inept desk clerk (which was an ideal match to the hotel's 1.5 star rating), I offered Pete the use of the sleeper sofa in my room. This is the way it works on the trail:  hikers help hikers.   We had just created a mini-hostel, which we're both quite used to.  He was a very agreeable, non-snoring roommate for the night.
Pete was much more efficient at packing up and hitting the trail than me.  This is also how it often goes.  Friends hike on their own and agree where they'll most probably see each other that night.  It was a long, hard  day for me, at nearly 16 miles. Again, mud and rocks.
Just before beginning the long downhill to town, I met an Indian family out on a day hike.  What struck me was how GREAT the mother smelled, as if she had bathed in delicious Indian cooking spices!  When I told her this, she said she wished she had known she would meet me.  She would have brought me something good to eat.  I love encounters like these.  The kids were so cute and inquisitive about what I'm doing.
After all these tough miles, full of… you guessed it, rocks… I finally made it to the darling little burg of Delaware Water Gap, where the Church of the Mountain has maintained a hiker hostel in their basement for the past 40 years.  Free will donations accepted and a warm welcome offered.
Dragging in, it was nice to see Pete again, along with about half a dozen other very nice guys.  This is the usual male/female ratio I encounter, although sometimes there's the odd woman thrown in the mix. I'm totally used to this.  The guys are always kind to me.  One modest fellow talked with me for some time about hiking gear. Pete later revealed that Underdog has a huge internet following for his YouTubes about backpacking and gear.  This is the photo I got of him the next morning.
Goodbye to Pete the next morning as he headed off.  He has been hiking from GA since late February, so he has much stronger hiking legs than I do at this point.
What excitement:  crossing into New Jersey while on the bridge crossing over the Delaware River!
States completed: GA, NC, TN, VA, WV, MD, PA.  Remaining:  NJ, NY, CT, MA, VT, NH, ME.
What would NJ bring?  During these initial 13.5 miles, I found fewer long ridges, a return to more ups and downs, but a continuance of those rocks and boulders.
But by now, I just accept them, trust my great Lowa Renegade hiking boots and just do it.
It was was such a pleasure spending my first night in NJ camping under my tarp, after sleeping in a garage, a marginal motel, and a basement hostel.
Day five was a stunningly clear, cool, breezy day. Hiking was just plain fun.  I felt so privileged to be able to do this, with such consistent support from Short Timer back home.  And I felt like I had the trail to myself this day,  meeting only a few other hikers along the way.
Another reason it was such a pleasurable day was the fact that Short Timer would be there to meet me at the end of the day for 36 hours together.  But the 15 rocky miles took their toll on my feet, as I limped up for my hello hug from my guy.
We spent our two nights and a day in the nearby town of Milford, PA, which is so very darling.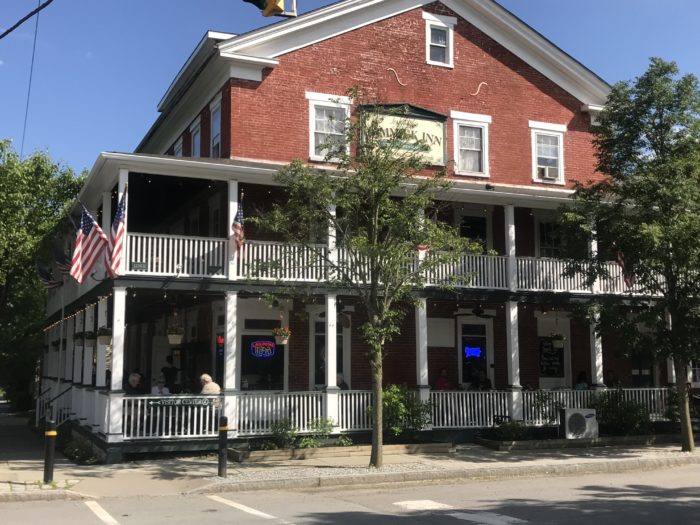 Our motel, cute little cottages around a grassy courtyard, is like a trip back to our childhood.  Neat as a pin and owned by the third generation of a hardworking, welcoming family.
The sore feet got a lot of TLC during this short break: Epsom salt soaks, ice baths, foot rubs by my hubby, new boot insoles from home, and a fantastic 80-minute massage at a nearby spa.
I'll be heading back out on the trail with "new and improved" feet.  It has been a great zero day with Bill.
We'll begin tomorrow with our second breakfast at the quintessential  town diner (GF french toast—yay!), and then Bill will drop me off at the same trailhead where he picked me up yesterday.  I will reach my destination at my next hostel hours before he parks the car in our garage in Cincinnati.  Thank you, dear, for driving all this way for such a short visit!
And northward I go.  I just hope I don't have to sleep in a garage again.  Who knows what will present itself in this new state?
Affiliate Disclosure
This website contains affiliate links, which means The Trek may receive a percentage of any product or service you purchase using the links in the articles or advertisements. The buyer pays the same price as they would otherwise, and your purchase helps to support The Trek's ongoing goal to serve you quality backpacking advice and information. Thanks for your support!
To learn more, please visit the About This Site page.