Snakes and trail magic (3/9)
3/9 (Day 12): Wine Spring Road campsite -> Wesser Bald shelter (13.4 miles)
I slept in this morning until after 8, which felt great. I woke up when other people started shuffling around. Rooster and Hydrater were actually the other tents I saw when I got in last night, so it was good to see some familiar faces. We chatted as we packed up and Rooster taught me a better way to fold up my tent.
I was planning on doing around 12 miles today but getting such a late start made me nervous to get into camp and not find space at the shelter. Since it was calling for rain tonight, the thought of packing up a wet tent yet again made me cringe. I made it my goal to get into the shelter before 4:00 pm, but there were a few good climbs ahead so I wasn't sure that was actually achievable.
My left pinky toe still hurt and was a little red, and I decided not to wear my big toe silicone protector and see if any hot spots showed up. I figured that would give the pinky toe a tad bit of room to not get so squished.
I was off by 9:30, a little after Rooster and Hydrator. I felt really good and full of energy and soon caught up to them. We walked up the road a ways to a gorgeous stone fire tower and a spectacular view. It was hot so I shed some layers and after a few pictures kept trucking along. I wanted to meet my deadline.
I hiked for a while, and then realized I hadn't seen a white blaze in a bit and the terrain didn't look like the trail. I pulled out the Guthooks app which uses GPS on your phone, not cell signal, and realized I was 0.1 miles off the actual trail. There was a sharp bend in the trail and I followed a path that's used to divert water. After mildly panicking I'd end up like that lady who took a wrong turn on the trail and died, I followed Guthooks back to the real trail and kept hiking.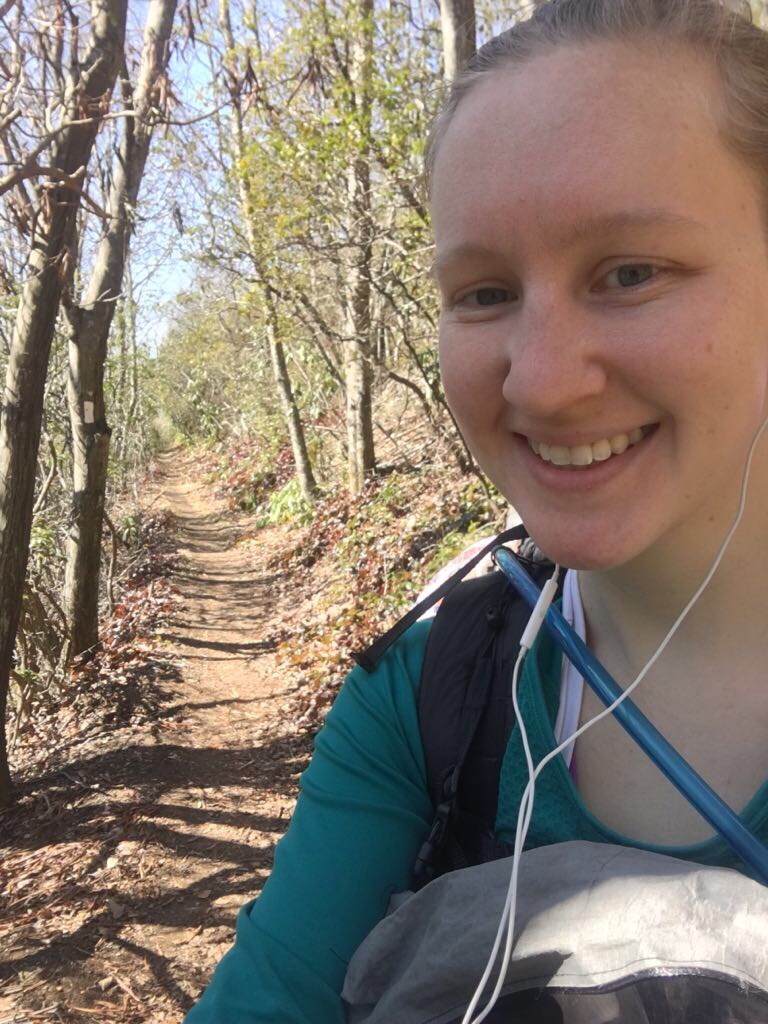 I filled up my water at a little stream coming out of the mountain like a water fountain. I put everything away, took a few steps on the trail, and found a small little garter snake sunning himself right in the middle of the trail. It was really sunny out but still a tad chilly, so I was afraid he wouldn't be fast enough to move and get smushed by an absent minded hiker. I took a little stick and coaxed him over to another sunny spot off the main foot area of the trail. I heard another hiker behind me and hollered to them to watch out for the little snake.

Coming to the end of a long downhill right before starting the big uphill climb of the day, I saw a sign around a tree branch that said, "Trail Magic Ahead!" I could barely contain my excitement and started shuffling along at double speed, looking like one of those professional speed walkers in the Olympics. Free food for a hungry hiker? I'd even shove a bear out of the way to get to those snacks.
The snacks were plentiful and tasted amazing. I had a banana, an oatmeal cream pie, several candy bars, and packaged cream cheese crackers. I chatted with Sethook, who happened to be the hiker I hollered about watching out for the snake, and the trail angel for a few minutes before thanking him profusely and heading on up the mountain. I was under strict instructions to remove any subsequent snakes I found on the trail as Sethook hates them.
The mountain was steep and long, but I felt so energized from my trail magic snacks that I powered up it like it was nothing. I made a mental note to eat a lot of snacks before attempting big mountains in the future.
At the bottom of the mountain in a clearing, I met Jam and we headed up the short climb together. I had Beyoncé cheering me on in my earbuds and I soon passed Jam and another hiker I met. I still had residual energy from the trail magic and my ever closing deadline of 4:00. I skipped down the trail and slid into home (the shelter) at 3:45. Not bad for such a late start.
I expected to have to fight for room in the shelter, but it was empty! I took a coveted spot by the wall. The other 2 hikers I passed, Jam and Grievance, soon joined me in the shelter. I'd never been to a shelter so early so I kicked back and relaxed and made dinner. After seeing T-Rex make Annie's white cheddar mac and cheese with a pouch of salmon mixed in a few days back, I bought it when I was in town. I figured I'd make half the box one night and have half the box the next. Well, half a box and half a pouch of salmon later I was still hungry, so I made the rest. It was delicious but a lot more time consuming than instant mashed potatoes.
After we cleaned up, Rooster, Hydrator, Beaker, and O-man joined us. We chatted a bit and then everyone turned in. Seems like everyone is planning on staying at the NOC tomorrow, but I'll be hiking through to Sassafras hopefully to beat the snow.
Affiliate Disclosure
This website contains affiliate links, which means The Trek may receive a percentage of any product or service you purchase using the links in the articles or advertisements. The buyer pays the same price as they would otherwise, and your purchase helps to support The Trek's ongoing goal to serve you quality backpacking advice and information. Thanks for your support!
To learn more, please visit the About This Site page.