Sorry, Yogi, not today!
It's just Day Two of my projected 90 on the trail. I'm walking alone in a forested area with many bushes.  Hubby is a minute or so ahead of me. Suddenly I hear lots of crashing about in the bushes just 15 yards to my left.  I turn and see a very large dark blob through the leaves.
I think to myself, "Could it be?"  Yes, it could. The good-sized bear turns and heads towards me. Walking or running?  I don't have time to discern that minor detail. All I know to do is stretch out my arms, shout, "NO!" and clang my hiking poles together.
Most fortunately, Yogi  picks multiple choice answer D ("None of the above"…although A. B and C happen to be his personal favorites). He makes a sharp right turn  and disappears into the woods.
Now fueled with adrenaline, I speed up to catch Hubby. After breathlessly telling him about my first bear encounter,  I take my own private moment in nearby bushes. I now appreciate the term "scared shitless."
And, thank you, ATC, for the valuable information you shared at the Flip Flop Festival last April.
And, in reflection, Yogi probably looked more like this, but it all happened so suddenly, who's to know?
So, aside from this, our first days of this adventure went very smoothly.  It was such a pleasure to share this beginning with Bill and let him see some of what I'd be experiencing, bears and all.
On Monday, July 24, we drove from home Ohio to Front Royal, VA.  We would be walking to this town over the next five days from Harpers Ferry, WV.  Leaving our car at a hotel (the Prius wanted the Executive Suite, but we insisted on the parking lot), a shuttle driver got us to our hostel in HF, the Teahorse Hostel.
Day One
With our packs and food for the first few days loaded, we headed out the next day.  The AT immediately showed its true colors for the rest of the journey:  steep ups and then steep downs.
Over the Shenandoah River on a busy bridge, and then down under that same bridge to get our feet on the dirt trail.
The brown landscape I had experienced in April was now replaced by brilliant green.  And, more often than not, rocks…small, medium and large.  Gee, just like the 3 bears.
We straddled the state line between WV and VA for quite some time.
We stopped occasionally to collect and filter more drinking water.
Lunch was on a rock by the trail.
We purposely kept our mileage low these first few days.  Our legs weren't used to the demands presented to us.  And this period together would be just about the first 5% of my journey to Springer Mountain. I had time to build up my trail legs.
After about 10 miles from the waterfront of HF, we came to our first night's destination, the David Lesser Memorial Shelter.
With the beautiful weather, we chose to set up our tarp and tent in the adjoining campsite.  Only two other campers, both in the highly popular hammocks, joined us.  It was so peaceful, so far from any sounds of traffic.
Day Two
This day, as you may remember, presented us with the bear.  Which I will admit was very exciting and worthy of repeating itself in the future, as long as the results are the same.
We also saw tamer forest residents a few times.
Sometimes the AT earns its nickname, "the Green Tunnel."  You spend a great deal of time in the same kind of environment.  But if you look closely, there are many other lovely things to behold.

We entered what is known as the "Roller Coaster" section of the trail.

This part of the AT was rerouted several years ago off a stretch of country road.  The "Trailmaster" seemed to take great delight in routing the new route up and down as many hills he could find.  Folks call them "PUDS" (Pointless Ups and Downs).  Up to a summit (occasionally with a view, but usually not)…..
…..down to a stream.
Or crossing a road.    Repeat from above.
Night Two was spent in bunk beds at the Bear's Den Hostel. This was formerly a wealthy businessman's home in the 1930's. It's now operated by one of the dozens of trail clubs that help maintain the AT.
Day Three
We continued our ride on the Roller Coaster. The night was spent camping on the grounds of a shelter again. Even though the forecast said no rain till the next morning, a downpour poured down.  Luckily, this happened just as each of us had gotten our shelters up.

We ate dinner under the pavilion of the shelter, where we enjoyed talking with a German couple who are doing the full trail with their dog Lissie.  Dogs are allowed all along the trail,  I believe, except in the Smoky Mt. National Park.  There, you have to reroute around it or hire a company to kennel and transport your pet.
Day Four
The next day, thanks to all the rain, it truly felt like the Appalachian Rainforest, lush, green and wet.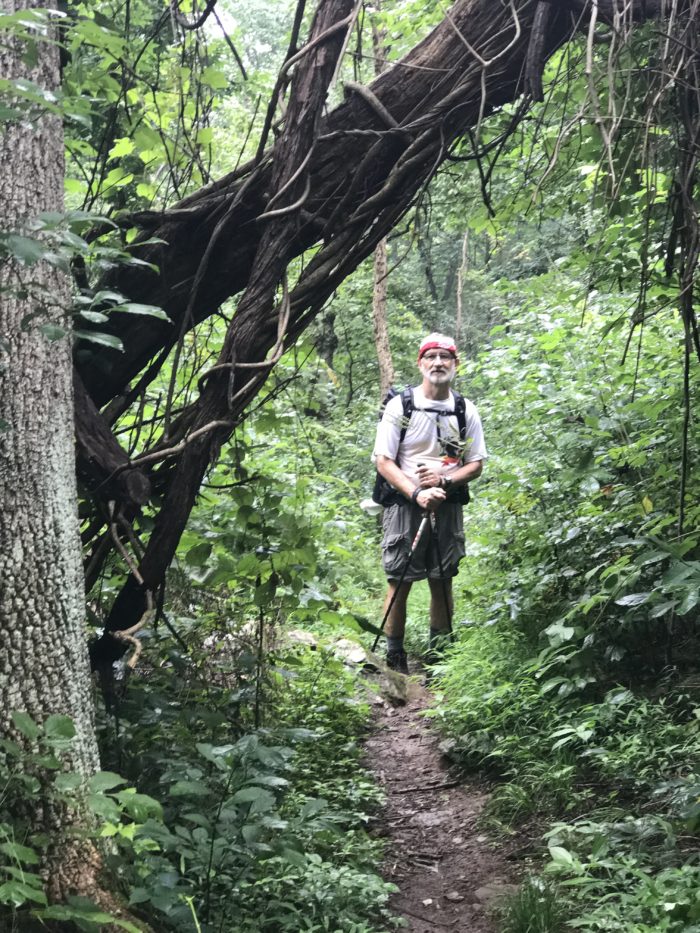 We had the fun of finding our way through a downed tree that completely blocked the trail.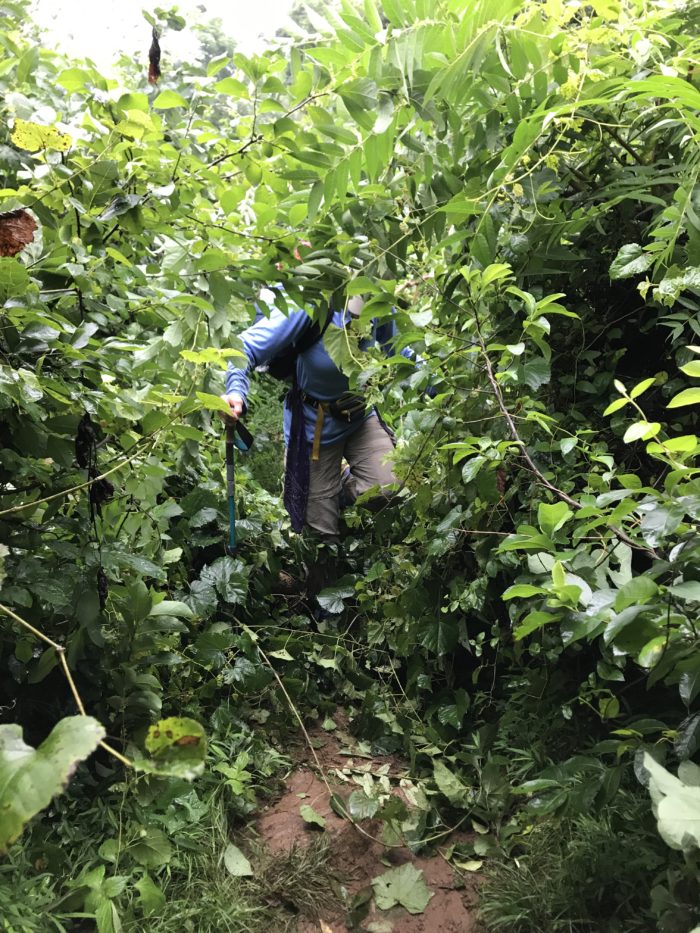 We were now off the Roller Coaster ride.  Now just back to more ups and downs and some ridges thrown in. And the difference was….?
Even though I love trees, it was a pleasure to have lunch in a lovely open meadow we came to.
A big rainstorm was again forecast.  We cut the day short of 10 miles and took refuge in a beautiful new shelter.  We were fortunate to have it all to ourselves, although a couple of thru hikers stopped to write notes to friends in the shelter journal.
We soon made ourselves at home.
It POURED that night.  We were so grateful to be tucked against the back wall of the shelter.  I learned my lesson to stay in shelters or hostels when such weather is forecast.
Days Five and Six
We got an uncharacteristic early start the next day, due to the 15.5 mile day ahead of us, our longest.  No rain but a misty beauty was in the woods in the morning.
The storm had taken down many trees overnight.  Can you find Bill as he tries to get around or through?
The trail gave us the gift of a very gradual downhill as we approached the road to Front Royal.  In the thru hikers' long-standing tradition, we caught a ride into town from a friendly local driver. We weren't up to another 3.5 miles of walking on a road.
And so Bill's section hike ended. He headed home the next day (Sunday), and I spent the day resting and resetting. I'll miss him so much, but am so happy he got such a good sense of what this section of the AT is like.
So, tomorrow:  Shenandoah National Park bound!  They say it's beautiful, with lots of bear sightings.  Bring 'em on, but with a happy ending as before.  I know you guys just want the food in my pack, but SO DO I!!!
Affiliate Disclosure
This website contains affiliate links, which means The Trek may receive a percentage of any product or service you purchase using the links in the articles or advertisements. The buyer pays the same price as they would otherwise, and your purchase helps to support The Trek's ongoing goal to serve you quality backpacking advice and information. Thanks for your support!
To learn more, please visit the About This Site page.