Why Am I So Nervous? I've Been Waiting So Long For This Moment!
Okay, now I understand. I've read so many blogs written in the final days before hitting the trail. Just about every one expressed anxiety, self doubt, nervousness. I assumed either these folks had never done a big trek before or they were just under prepared.
Well,  here I am. We drive tomorrow from Ohio to Harpers Ferry, WV. I begin my SOBO (southbound) hike (joined by hubby first 5 days) to Springer Mt, GA.  And my heart is racing, my palms are sweaty, I can't seem to concentrate on getting my final preparations done.
And I HAVE done big treks before. And I HAVE been so thorough in my research, preparations and training that you might, just might, call me obsessive. Okay, yes I am.
But my meditation guru on the Headspace app tells me that whenever I feel anxiety, just pause and note that it is occurring. Then observe without judgment or intent what the physical manifestations are. And then move on. Don't try to stop it, just note it. Eventually this should help reduce the frequency of occurrences.
Okay, so, yes, my breathing is slightly shallow and more rapid. My palms are a bit sweaty. And now I move on.
The training has been done.
A week's training hike on the AT in April.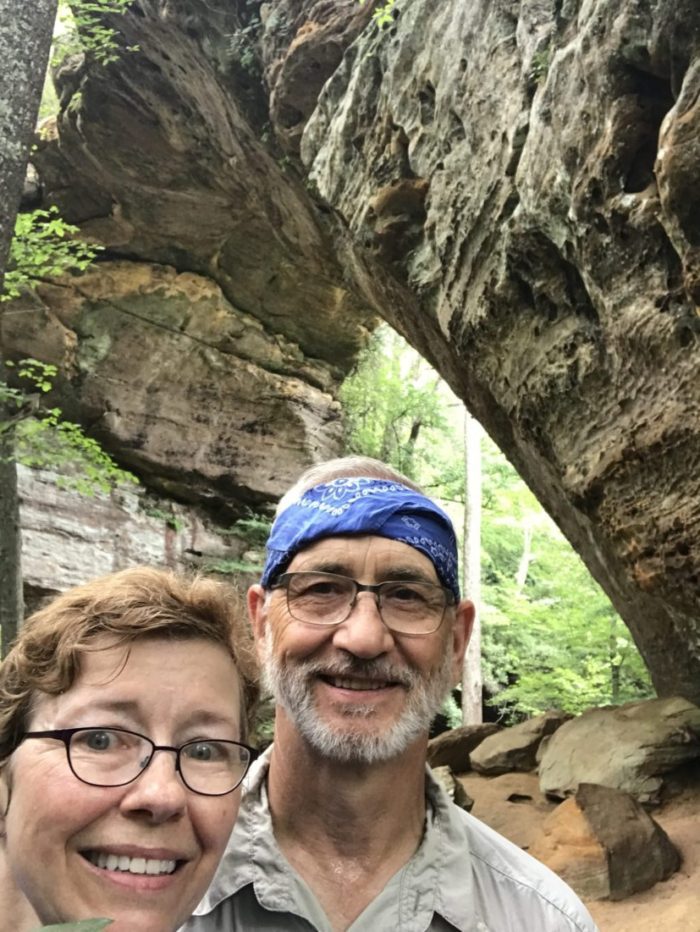 Hiking in Red River Gorge in nearby Kentucky this spring and summer
We even got in some hiking in Japan with our kids, kids-in-law and the darling granddaughters.  It looks like they really enjoyed time out in nature
The food has been prepared and is ready to be shipped.
Lots of interesting things are going in my food packs.  I brought back some of my favorite Japanese nori (dried seaweed) as a trail snack. Everything had to be sorted into little one-day packs.
I'm going to be sweating a lot out there. Nuun electrolyte tablets were removed from their heavier tubes and repacked into daily 3-tablet-sized tiny plastic ziplocks.  Thank you, Amazon.com, for having nearly everything I could imagine and need for this trip.
My favorite snack bags I made were affectionately dubbed, "Bag O' Choco."  A little bit of this, a lot of that. Needless to say, I have not lost any weight lately, even with all the training I'm doing.
Even a diet full of fruit, veggies, healthy meats, greens, electrolytes and dark chocolate needs supplements. I spent 4 hours one day sorting out the dozen or so supplements I take every day into 91 tiny pill bags.
A few few days later, I opened a third of those tiny bags again to insert a meter of dental floss. A hiking dental hygienist friend suggested leaving the floss dispenser at home (weight savings) and using one piece for 3 days.
In the basement, an assembly line was set up  of all the dehydrated meals I had prepared. Bill and I spent several hours preparing a numbered gallon sized ziplock for each of the 91 days I plan on being out: breakfast, lunch (homemade jerky and dehydrated veggies), dinner, 2 snack bars, a snack bag of dehydrated fruit, 1 bag o' choco (including nuts and seeds), a green tea bag, protein powder, Nuun tablets, homemade gluten free fruitcake and snickerdoodles.
The bags were carefully stacked in numerical in one of our two deep freezers.
Several sizes of Priority Mail boxes are stacked at a mailing center set up by the freezer and shelves of extra supplies. Bill will periodically mail a 3-5 days' food supply to me a week before needed. They will either go to hostels or hotels where I plan to stay, or to "General Delivery" at small town post offices relatively near the trail.
The projected itinerary has been set.
Anything can happen on the trail. Thunderstorms might keep me inside a hikers' hostel an added day. A root or a rock might decide to Connect with an ankle.
But I have two excellent guides to help me project my prospective hiking distances each day.  I also have found lodging and small towns where I'll take a "zero day" once every 5-7 days.
I like paper. So my primary resource will probably be the A. T. Guide: a Handbook for  hiking the Appalachian Trail", by David "AWOL" Miller.
The pages are set up to show your elevation  profile and the location of shelters, water sources, nearby towns, hostels, etc. The above page shows the mountains just north of the Smoky Mountain National Park.  Those will make strong legs.  Or just tired.
My other resource is a superb downloadable app called "Guthook's Guide to the Appalachian Trail."  It gives you an interactive map of each section of the trail, with the ability to see photos and read up-to-date hikers' comments of shelters, water sources, hostels, etc. It also can pinpoint where you are. Now there's less chance of going astray when stepping off trail to visit the bushes for a minute.
I'm taking my new iPhone 7 Plus, along with a pretty powerful battery pack for recharging, so I should be set.
The gear has been selected, sewn and tested.
Many hikers try to get the base weight of their packs down to 10 lbs or less.  This is considered "ultralight."
Base weight includes the pack itself with all the items that won't change during the hike. Consumables such as food, water, fuel, sunscreen, and medication are not included in this weight, nor hiking clothing worn every day.
Your "pack weight" includes all of the above.
After a lot of research and gear changes, my base weight for summer is right at the 10 pound point. But I will be switching to a heavier sleeping bag and pack more clothing when fall sets in.  The weight and volume requirements will go up, so I'll switch to a slightly larger pack then.
I'm projecting that my total pack weight will never go over 22 pounds.  And by day's end, that will feel like 50.
So here's what I'll be carrying on July 25, 2017.
Column 1, on the left:
 2600 cubic inch  Ray-Way backpack.  Amazing.  Just 10.6 ounces.
white trash compactor bag to use as a waterproof liner for backpack
Pataginia waist pouch, containing cash and cards in waterproof ziplock, iPhone in plastic case and ziplock, and spare glasses with clip-on sunglasses.
2 bandanas: a half bandana as a pee rag; a full banadana as a sweat-wiper, washcloth/towel for trail "sponge baths," a hot pad for cooking, and a way to hide my horrible hair when I take off my cap.
Column 2:
 Warm weather Ray-Way sleeping quilt in stowbag
Sea to Summit inflatable pillow
Thermarest Neo Air inflatable mattress. I must be comfortable sleeping.
Column 3:
 Ray-Way net tent that attaches under:
Ray-Way tarp (I love my net tent and tarp!)  The tarp also has a covering for one end, for more protection from wind or rain
Rolled up vinyl ground cloth for under net tent
8 tent pegs
small cookpot in odor-proof plastic bag. Presently wrapped in insulating layer that lets me heat food to boiling and then steep w/o using fuel
Gas canister and Pocket Rocket burner
long handled titanium spoon and Bic lighter
2 plastic Smart water bottles. One for water, one for Nuun electrolight drink
2 rolled up water bags
Sawyer water filter. Dirty water from water bags in one end, clean out the other in bottles.
Column 4:
 Sea to Summit bag with roll down top to put food bag in when hanging up at night, away from bears' reach
rolled up odor proof food bag
rope in small bag: used to hang bear bag from a high branch out far from the trunk of the tree.  Hypothetically.
extra clothing: 1 pair undies, 1 spare sports bra, 1 pair extra socks, rain jacket, rain kilt for lower body, insect net head cover, tshirt and knit capris for clean sleepwear
Road I.D. bracelet. I heartily recommend this for all running, cycling, hiking, walking.
guidebook and waterproof Rite in the Rain notebook/journal and pen
Medical bag
insect spray, hand sanitizer, sunscreen, lip balm, eye drops
tech/bedtime bag:  phone battery pack, cables, eye mask, ear plugs, lightweight Petzl eLite headlamp
hygiene bag: liquid Campsuds for body and cook pot, toothpaste tablets (yay, Amazon!), toothbrush with handle cut in half (such a classic backpacker thing to do), face cream
half a roll of TP, small ziplock to collect used TP, tent peg to dig holes for #2.  It's important to "Leave No Trace" that you were there.  No, toilet paper doesn't decompose quickly.  Kilimanjaro was littered with it.  Disgusting.
That's it, folks!
Bill and I will drive to Front Royal, VA, early tomorrow, leave the car at a hotel and catch a shuttle ride north to Harpers Ferry, WV.
Tuesday morning, the elusive dream turns into hard reality. Bill will hike 5 days with me back to the car, say sayonara, and I'll be on my own on the trail.
Sort of.  Don't be surprised by future stories of some interesting folks I meet along the way.
And thank you for reading this LOOOONG post. Trust me, they'll be shorter from now on. ?
Sorry, ticks, you can't hide under this short hair!  Thanks, Connie.
Affiliate Disclosure
This website contains affiliate links, which means The Trek may receive a percentage of any product or service you purchase using the links in the articles or advertisements. The buyer pays the same price as they would otherwise, and your purchase helps to support The Trek's ongoing goal to serve you quality backpacking advice and information. Thanks for your support!
To learn more, please visit the About This Site page.