The Great Black Bear Uprising of 2016 (Days 65 to 69, Glasgow to Waynesboro)
---
Day 65
Start: US Route 501 / Glasgow
Finish: Bushcamp 1.5 miles past Resivour Road
AT Miles Hiked Today: 16.5
Overall AT Miles Hiked: 800.8
Miles To Go Until Katahdin: 1,388.3
While crushing a pint of Ben and Jerry's outside of the grocery store last night, I met a guy running shuttles back to the trailhead. I knew I had to pick up my mail drop at 8am when the post office opened, so I told him I'd be ready around 8:30 or so.
I spent the night in the town-provided hiker shelter near the center of town. Lots of hikers spending the night. I think I'm right in the thick of the bubble. Still, I slept great, with a belly full of two meals and ice cream.

Today I woke up and wandered over to the grocery store for a delicious breakfast of Gatorade, Fritos and a tasty kake cherry pie. Not a ton going on around town. I walked over to the library and used their wifi to contact home, then swung by the post office to get my mail drop.

I split the shuttle back to the trail head with another hiker. Our shuttle driver was around 70, and I could only catch maybe one out of every three words he said. So it was a pretty fun ride back to the trail!
I spent some time near a stream eating and organizing my thoughts for the day. The morning was relatively rushed, with the shuttle driver showing up before I was ready. The first part of the trail was a beautiful walk right next to the inlet streams running into the James River.

The next few hours were climbing back up into the mountains. The last part of the climb was steep and rocky. But, I was rewarded with some amazing views back towards the river.


I started slowing down around midday. The terrain was flatter, but the temperature and weight on my back were enough to keep me winded and sweating.  I passed a couple of slackpackers who were looking chipper and energetic without their full packs. Man, I gotta figure out how to get a slackpack going. It looks amazing.


I stopped off at Punchbowl Shelter for my first water source since ascending the first mountain. To my surprise, Ivan was there! We caught up, and I got to play with an adorable 11-month old white lab puppy named Lilly while rehydrating and eating my snacks. I wanted to steal her away from the section hikers she belonged to and take her with me for the rest of my hike.

At this point my right Achilles tendon started to flare up, so I moved very slow for the rest of the day. I started looking for a campsite and hiked to a true unmarked bushcamp overlooking the Lynchburg Resivour. I'm pretty tilted lying here in my tent, but I was hurting, so I think I made the right choice. This is barely a site, just a slightly flat area right off the trail, with room for only one tent.


I decided to give myself 5 days to do the 78ish miles into Waynesboro. That's slightly below my previous pace, but this is an extremely choppy section of trail, going from 4,000 to 1,000 back to 4,000 feet several times in which succession. I have the first ascent up to 4,000 tomorrow morning, which is perfect, as I can't imagine having to do that climb in the heat of the afternoon. Hopefully I can time all my climbs over the next few days to hit the big uphills in the morning.
By the way, the bugs are starting to get really bad. I'm getting chewed up and will probably have to grab some bug spray in Waynesboro. Time to start eating dinner in the protection of my tent!
Day 66
Start: Bbushcamp just past Resivour Road:
Finish: Piney River, North Fork
AT Miles Hiked Today: 17.4 
OverallAT Miles Hiked: 818.2
Miles To Go Until Katahdin: 1,370.9
I was camped at a weird angle last night, with the result that I woke up several times folded into the bottom right side of my tent. Still, I slept pretty well. No other campers near me, and a silent camp all night.
I woke at 6:30 and was moving by 7:30. My goal for the day was to get on top of Bald Knob by noon. Otherwise, I knew the heat would kill me as I tried to tackle the 3,000 foot ascent.
My Achilles tendon felt much better today, and I was making great time until I came to a big river crossing within the first few miles. I had to put on my crocs to cross, which took about 15 minutes of searching for a crossing where I could cross without taking my shoes off, taking my shoes off, crossing, and putting my shoes back on. Still, it was a beautiful river, and I took the time to filter some water on the other side.

The trail ran alongside the Brown Mountain Creek for the next few miles. I was enjoying the sound of the moving water, when I looked up, and saw Crusher directly ahead! He had pulled 27 miles the day before and jumped ahead of me! It was great to see him again, especially since I had heard from Ivan yesterday that Crusher was looking pretty frustrated a few days ago. We caught up and walked the next few miles together.


We hit the start of the big ascent at 10. Crusher immediately dropped back and told me to go ahead, as he was sweaty and probably sore from the day before. I shrugged and kept heading up.
The trail was pretty well graded, and the terrain was decent, so I made good time heading up. I flip flopped back and forth with a couple from Wisconsin that I've been seeing on and off for the past week. I realized halfway up that I had broken off not one but both of my trekking pole tips. Sigh.


I got to the top at 11:45, and was greeted by some spectacular views. I also let out a sigh of relief, knowing that this was the last big climb of the day.


No sign of Crusher. I waited for him near a water source for close to a half hour, but he never showed up. I made my way slowly down the trail, eyeing a campsite that would put me at 15 miles on the day. But, when I arrived, it was only 3:45, so I decided to trek an extra few miles to a river.


When I arrived at camp it was only 5, so I had lots of time to stretch, do camp chores, and relax before retiring to my tent around 7. Ah, folks, is there anything better than going to bed when the sun is still in the sky? I think not. Crusher never showed up, but who knows with that kid, he did 27 miles yesterday so I wouldn't expect him to do a big mile day again today. (Update: he rolled in after I finished this entry, around 8.)

I'm feeling much better than yesterday. I think my body is responding well to backing off from 20 mile days for now. I keep having to remind myself that I'm in no rush. I know intellectually that overuse injuries could end my hike very easily, but my stupid brain wants to fly and push the limits to see how many miles I can do. It's a marathon, not a sprint. I have a few friends with plans in the works to join me in northern VA and around Harper's Ferry, which I think will make it easier on me to do lower mileage and hang out with them.
Day 67
Start: Piney River, North Fork
Finish: Harpers Creek
AT Miles Hiked Today: 15.9
Overall AT Miles Hiked: 834.1
Miles To Go Until Katahdin: 1,355.0
We were camped at a higher elevation last night, so the night ended up being chilly! I was surprised when I awoke and it was under 50 degrees. I feel bad for the thru hikers who sent home their sleeping bags and now only carry thin sleeping bag liners. I had my puffy on for the entire morning.
I was up early, and hiking by 7:15. Crusher was still in his tent when I left, so I hollered to him that I'd meet him at Harpers Creek. As I left the campsite I also left the protection of the hill behind us, and the wind started whipping in, making it even colder as I hiked. I actually had to change from my short sleeve shirt into my long sleeve shirt while I was hiking!

Still, it was another beautiful morning on trail. We were hugging the ridgeline with gentle ups and downs for the first 8 miles or so. Very easy hiking.


I was hiking fast, so I got to the end of the ridgeline around 11:30. I dipped down to The Priest Shelter, where thru hikers like to confess their trail sins in the log book. What happens on the trail, stays on the trail.

The next 4 miles was a sharp descent from 4,000 back below 1,000 feet. My Achilles tendon was feeling sore again today. I'm a little worried about it at this point. Hopefully the easier mileage I'm doing will help it in the long run. Plus, I'm taking a zero in Waynesboro this weekend, which will also help.

As I crossed the Tye River, I knew I was doing great on time. Only another 2.5 miles to my planned campsite and it was barely 2pm. So I took my time ascending the first bit of Three Ridges.


I was the first hiker to stop at the Harpers Creek campsite, which is a nice big campsite with plenty of room for tenting. Not long after I arrived, there section hikers rolled in. We all went down to the nice creek near our campsite and soaked our weary feet.

We all started chatting as we were soaking. It's funny, sometimes I meet people out here and quicky realize have zero desire to continue the conversation. Other times, I meet people out here and have an immediate connection with them. It soon became clear that these were good people, and we were soon cracking jokes and telling stories. The three of them are from Seattle and have experience backpacking in the North Cascades, so we all swapped stories and took our time enjoying the beautiful weather and the cold water.

We made our way back up to the campsite and continued to hang out. All of a sudden, Sherpa breaks out a container of wine and asks if I wanted some! Well, it would be rude to deny a drink with my new friends, so of course I accepted a glass. We all ate dinner and had a great time. Eventually, Crusher rolled up, as did Cavs and Goblin. So, it's a good campsite tonight!
Nights like tonight make me happy to still be out here meeting new people. Most nights out here are becoming routine, with camp chores, dinner, then bed in quick succession. I'm glad I called the day at 3:30pm instead of trying to force more miles. It gave me the time to meet Sherpa, Bleeder and Lollygagger, and I had such a good time eating (and drinking!) with them. It's these types of experiences that I wouldn't get if I was trying to finish the trail in 100 days, or rushing through my hike. Happy nights like tonight are a big part of staying sane out here on the trail.
Day 68
Start: Harpers Creek
Finish: Paul Wolfe Shelter
AT Miles Hiked Today: 22.2
Overall AT Miles Hiked: 856.3
Miles To Go Until Katahdin: 1,332.8
I was up early, as usual. I left camp at 7:15, making sure to stop and say goodbye to the section hikers before I left. Crusher was still asleep in his tent when I left, which was fine – we will meet up later I'm sure.
Crusher and I were aiming for a campsite 17 or so miles into the day, up and over Humpback Mountain, the last mountain before hitting Waynesboro. We were a bit hamstrung on water sources to end the day, with water at Laurel Spring 13 miles in, or another spring 17 miles in.
The morning was all about the climb up to Three Ridges, which I heard was a pretty tough climb. Despite the cool morning, I was soon sweating as I climbed. The terrain immediately turned terrible and rocky, which killed any momentum as I picked my way from rock to rock.

There were a few scenic spots on the way up where I took a rest. The day was shaping up to be a beauty. I've gotten lucky in this section, with zero rain. Sometimes the weather works out great, but I know for every day the weather is sunny, there will be a day down the trail where it's raining so much that my shoes are swimming pools the entire day.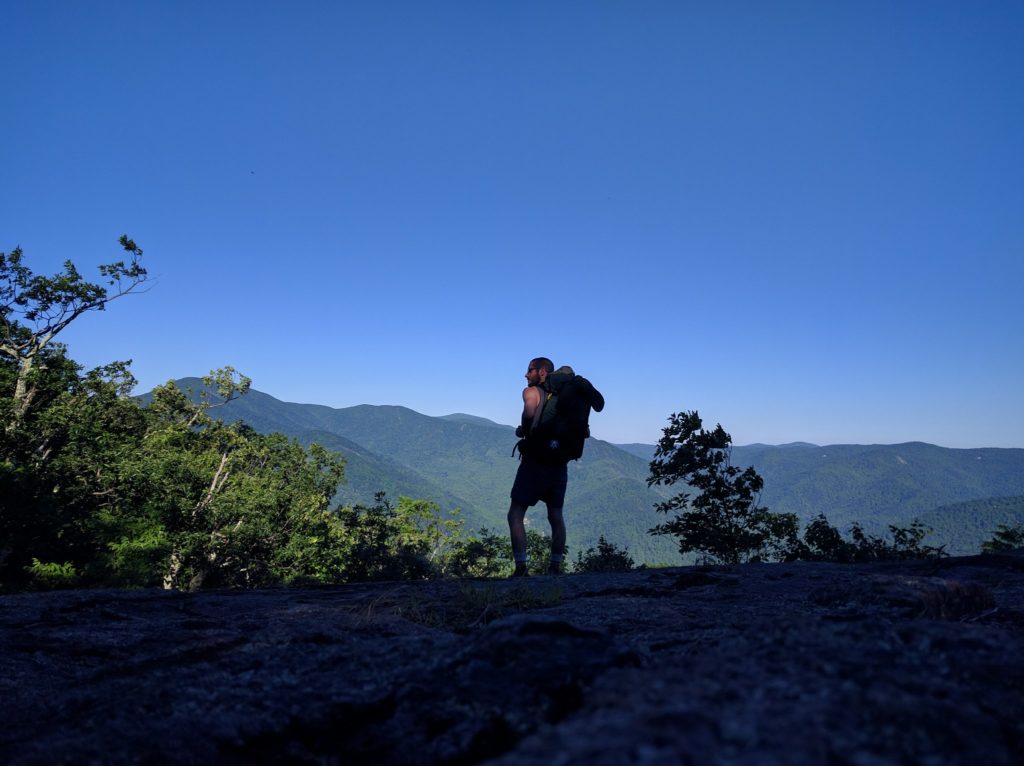 I finally summited close to 10am. The view from the top was spectacular. I spent a good 20 minutes just sitting and basking in the sun, while enjoying the view.


At that point I kicked up the speed a bit. The afternoon was uneventful for the most part as I cruised along, trying to make up time, as it took me a few hours to make it the 3 miles up the mountain early this morning.


As I came up from Laurel Spring, I passed two other hikers named All Star and Frosty standing beside the trail. They told me they had just seen a bear and that, despite their yelling and beating their trekking poles together, the bear seemed unafraid of them. I shrugged and figured it was just a loopy bear or something.
I continued crushing along, when I turned a corner and standing right in the trail was a little bear cub. "Shit!" I yelled, and started clacking my trekking poles together, speaking out loud, and backing away slowly. Seeing a cub is even more terrifying than seeing a full size black bear, because if mama bear is nearby and you get between her and her cub, then you are in all kinds of trouble.
The cub just chilled in the trail looking at me, as I backed away and shouted. My heart was racing and I backtracked down the trail a bit to give myself some room. I continued to clack my poles and yell for a few minutes then I went back down the trail to check. The damn cub was in the exact same spot, still looking at me as I turned the corner!
I retreated and considered my options. If mama bear is here, I'm screwed. I guess I could just wait until other hikers come along? I waited 5 minutes then went to check again. Whew, the coast was clear. Still, my adrenaline was pumping. I whistled a Wilco song as I walked, to give the bears fair warning, and also to introduce them to the simple compositional brilliance of Jeff Tweedy.
A half mile later I got to the water source where I would fill up for the night before going to my planned dry campsite another quarter mile down the trail. As I was filling up, All Star and Frosty pass me by. I continue down the trail after them, when all of a sudden I turn a corner and there they are, stopped dead in the trail because there's another bear cub in the woods not 10 feet from them. I should also mention that this bear is a stone's throw from my planned campsite for the night. I can actually see it in the background. Unbelievable. And, this bear also isn't spooked by humans! Eventually we slide past on the trail, and the bear just sits there and looks at us. I snagged a picture as I walked by.

Now, I'm a little freaked out. These bears clearly have no regard for humans. I'm picturing multiple bears dragging me away from my tent in the night. So, I decide to get the hell off this mountain and go to the shelter 4 more miles down the trail. Strength in numbers! If there are lots of humans, the bears wouldn't dare try to drag me away into the night. Right?
I hiked with All Star and Frosty. As we walked we laughed about how ridiculous it was to see so many bears in one day. We passed hikers on the way up and warned them. One dude actually turned around and went back down the mountain, shaking his head and saying "Humpback Mountain just isn't worth it!"
As we were a few miles out from the shelter, we see ANOTHER BEAR. This one is a mid-size bear and runs about 10 feet into the woods before turning around and staring us down. I shudder. What the hell is going on? Humpback Mountain is clearly the base for the Black Bear Uprising of 2016.
I rolled into the shelter close to 7pm. Long, long day. It's well past hiker midnight as I type this. My only comfort is that there are many hikers here tonight so we can band together to fight the bear uprising that is clearly happening on this mountain. If they find this phone in the belly of a bear you'll know what happened to me.

Day 69
Start: Paul Wolfe Shelter
Finish: Rockfish Gap / Waynesboro VA
AT Miles Hiked Today: 5.1
Overall AT Miles Hiked: 861.4
Miles To Go Until Katahdin: 1,327.7
I slept like a log. The long day yesterday plus the white noise of the nearby river kept me asleep all night.
I was up early, eating my remaining food and starting the mostly flat hike to town. The miles were scenic and easy.


I arrived at the gap around 8:30, the same time as a father – daughter duo named Does Equis and O. There was a posted list of local trail angels who will shuttle to town, and we tried a few, but nobody was able to shuttle us in. We decided to hitch, got to the side of the road, and the first car that passed us stopped and let us hop in the back. Perfect!

When we got to town we were starving, and ducked into the first open café. Turns out it was a fancy café, so I ate a fancy breakfast burrito and enjoyed air conditioning for the first time in a while.


As we were eating I called down to the local super 8 to get a room, and hitched over after eating. Again, the first car to pass picked me up. Super friendly town! I apologized for my smell. At that point it was 8 days since my last shower.
I ate at Wendy's and got back to the room to shower, and Crusher finally called to see where I was. He came and joined me at the hotel, and we caught up for a while.
Of course, first night back in town means eating as much as possible. Fortunately there is a Golden Corrall next to our hotel. We swung by for dinner and I ate a literal ton of food. So good. Then we swung by the nearby Walmart for resupply. Everything I need is within walking distance from my hotel.

And that's it for this update! I'm being super lazy tonight here in the room. I'm gonna zero tomorrow here in Waynesboro and then it's on to Shanendoah National Park!
Until next time, happy trails!
-Slice
Affiliate Disclosure
This website contains affiliate links, which means The Trek may receive a percentage of any product or service you purchase using the links in the articles or advertisements. The buyer pays the same price as they would otherwise, and your purchase helps to support The Trek's ongoing goal to serve you quality backpacking advice and information. Thanks for your support!
To learn more, please visit the About This Site page.