My Biggest Appalachian Trail Gear Regrets
Personally, I don't subscribe to the belief that I need to admit when I'm "wrong" or "make mistakes." But fortunately for us, Saoirse "Story" Ibargüen is a better person than I. She made an entire video about her biggest gear regrets from her 2018 Appalachian thru-hike so we can learn from her mistakes. Below is a roundup of gear she didn't need to bring and what she absolutely wishes she had while out on the AT.
Adapted from a recent video by 2018 Trek Writer and Vlogger Saoirse Ibarguen. Apply to be a Trek Vlogger and subscribe to The Trek's YouTube Channel here. 
1. Journal
A somewhat controversial first pick, but Story recommends leaving the physical journal at home. She found that at the beginning of her hike, her fingers were too frozen to even hold a pen and that taking notes on her phone worked just as well as in a physical journal. She ended up sending her journal home and saving herself the extra ounces that every hiker knows add up over time.
2. Non-Waterproof Gloves
While a good chunk of AT thru-hikes take place in the summer amidst terrible humidity and heat, the beginning and end of hikes require cold-weather gear for less-than-balmy conditions. Story recommends buying warm and waterproof gloves that can withstand freezing conditions at night and rain during the day. She started out with non-waterproof gloves and had to swap them out when she couldn't feel her fingers when she reached camp at night.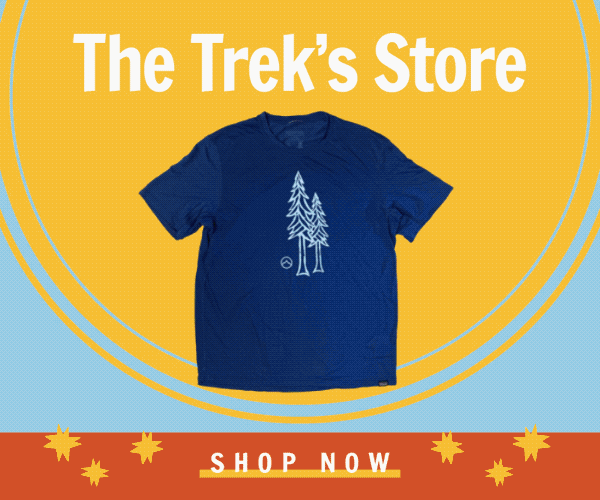 3. No Puffy Jacket
Same as with waterproof gloves, a puffy jacket is a must for the colder months. Story saw almost every other hiker wearing one at the beginning of her hike, and looking back, she wishes she had participated in that trend. Puffy jackets are lightweight and can help avoid the need to layer on all your clothes at night to stop shivering.
4. 40-Degree Quilt
When buying a sleeping bag, definitely look for one that can handle sub-freezing temperatures. The weight saved when choosing a 40-degree vs. a 21-degree sleeping bag is not worth the shivering and poor night's sleep. Story's quilt served her well in the summer months but left her miserable in March and September.
5. One-Pound Camp Shoes
Everyone loves a pair of Tevas, but Story decided that hers weren't worth the extra pound they added to her pack. She figured she'd rather focus on whittling down her pack's weight than prioritize extra comfort at camp. She ended up sending her Tevas home and didn't regret that choice for a second.
6. Sawyer Squeeze Pouch
While Story loves the Sawyer Squeeze system, she recommends putting the filter on a Platypus reservoir rather than using the Sawyer Squeeze Pouch. She endured a lot of splitting along the seams before she swapped out for a sturdier bag. But knowing what she does now, she'd avoid the pouch altogether and just start out with a Platypus bladder.
7. Stuffable Pillow
While pillows are great for shorter hikes, they probably aren't worth the weight for a longer thru-hike. A stuffable pillow uses clothes to create the pillow-shape, but the same can be created from the clothing bag already in your pack. Just put that under your head for a comfortable night's sleep.
8. Too-Big Pack
Choosing a pack is always a balancing act between weight, size, and what feels comfortable over miles of mountainous terrain. Sixty or 65 L is generally the upper limit for pack sizes on AT hikes. Anything larger indicates that you're probably hauling items you don't need and unnecessarily weighing yourself down.
9. No Pee Rag
It's really important to keep clean on the trail, and a pee rag is a helpful tool to keep dry and avoid nasty rashes and infections. Story started out using a bit of micro-fiber cloth but found that pee rags are much better suited and designed for the explicit purpose of drying up after peeing. She swapped her cloth out for a pee rag at the nearest outfitter and immediately felt much more comfortable.
10. Period Underwear
While Story loves period underwear for her life off the trail, she doesn't recommend using them on a thru-hike. They require users to wash them frequently, and that's definitely a problem on the AT when you only stop in trail towns every 4-5 days. A lot of hikers recommend using tampons instead, which don't add much weight to your pack and are easy to pack out after use.
Prepping for the AT but not sure where to start? Check out The Trek's extensive AT gear list for inspiration.
When making your gear choices, remember that while on the AT, it's easy enough to swap out or send home gear you don't like as you find what works for you. Definitely take into account what past hikers recommend, but don't be afraid to hike your own hike and change your mind about what works best for you along the way.
Affiliate Disclosure
This website contains affiliate links, which means The Trek may receive a percentage of any product or service you purchase using the links in the articles or advertisements. The buyer pays the same price as they would otherwise, and your purchase helps to support The Trek's ongoing goal to serve you quality backpacking advice and information. Thanks for your support!
To learn more, please visit the About This Site page.